Best Cars to Buy in Canada in 2023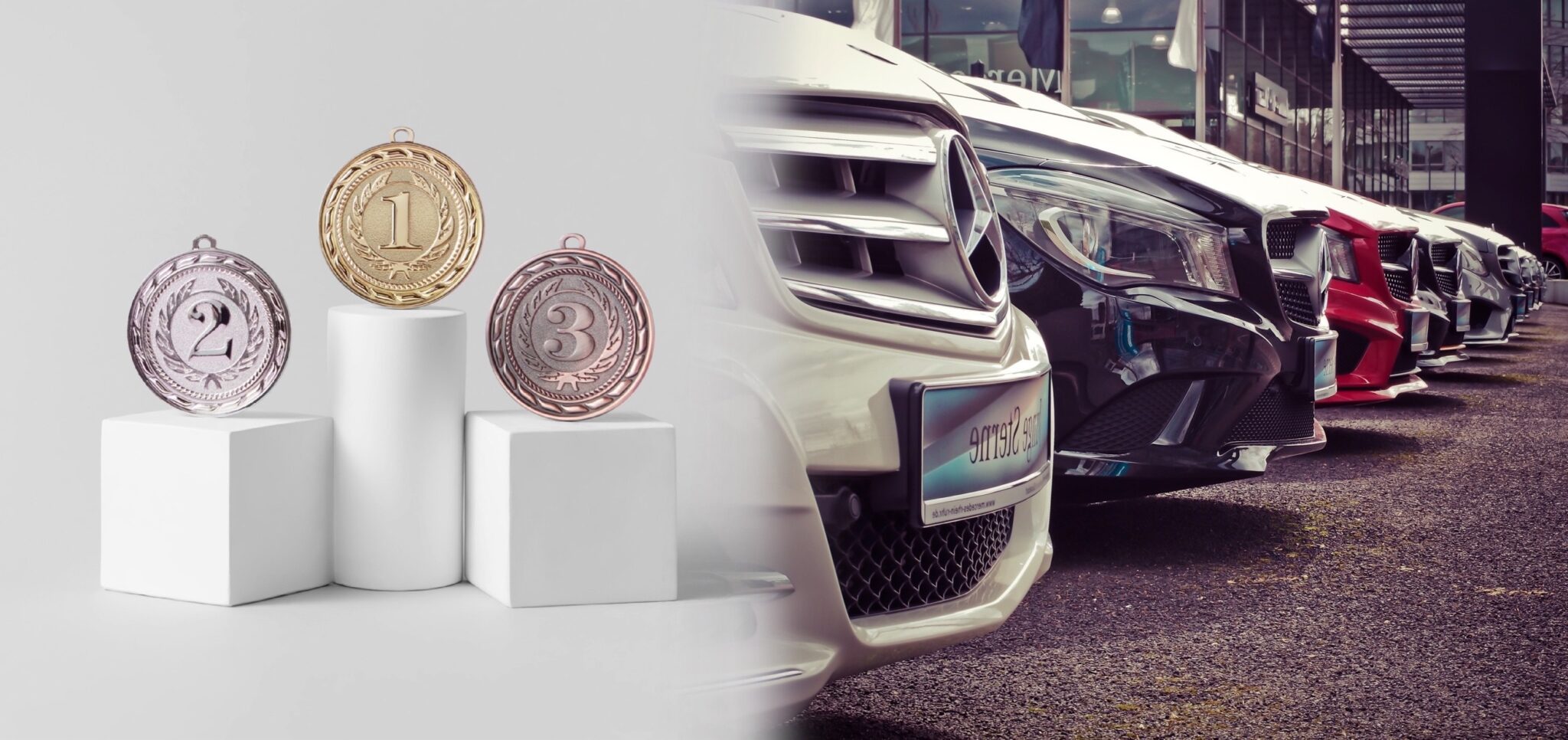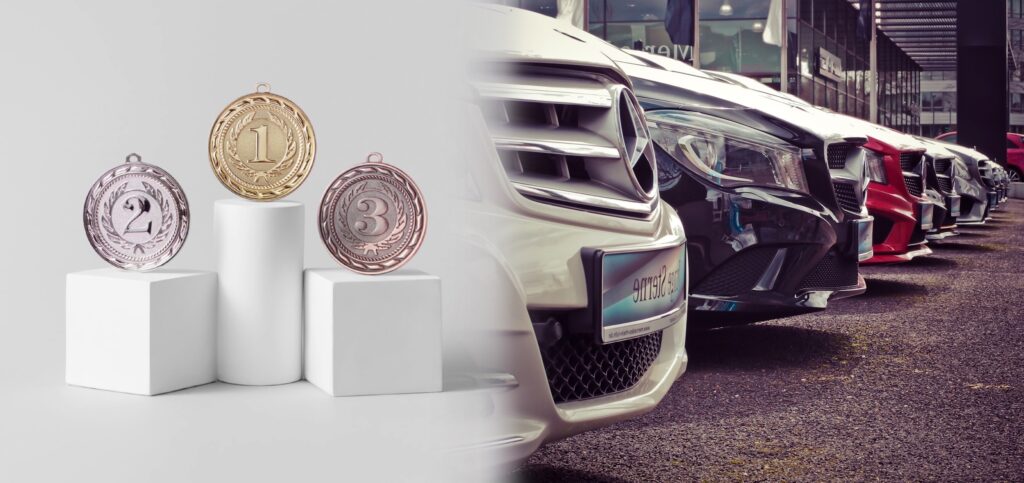 When it comes to buying a car in Canada you'll want to give it some thought , especially because you'll drive it often. If money is not a concern, you'll probably end up choosing the car of your dreams but if you're on a tighter budget, you might need to look at some cheaper options on the market. If you're a first time car buyer then buying a used car can be an attractive option because it's obviously cheaper than buying a new car, however, others will still prefer to enjoy the unique "new car" smell by choosing to buy a brand new vehicle. If you're more of a car enthusiast you may also take into account other features of the car like its technology, design, make and even the brand. Most importantly, we recommend you understand how fuel efficient and reliable your potential car will be, you'll want to choose a car will cost you less on gas and repairs.
Regardless of your preferences for choosing a car, its also important to know the current buying trends in the Canadian auto market so you can make a more informed decision on your purchase. Below we present the best-selling cars in the first half of 2022 within Canada and a brief description about each vehicle as a reference to aid you when it comes to buying your car. Since these have been bought the most this year, it's safe to assume that they'll be a there or there abouts as a great option to buy in Canada in 2023.
10. Toyota Prius: 2,356 cars sold
9. Honda Accord: 2,618 cars sold
8. Mazda 3: 4,970 cars sold
7. Kia Forte: 5,254 cars sold
6. Nissan Sentra: 5,328 cars sold
5. Toyota Camry: 6,009 cars sold
4. Tesla Model 3: 7,054 cars sold
3. Hyundai Elantra: 12,932 cars sold
2. Toyota Corolla: 14,998 cars sold
1. Honda Civic: 15,331 cars sold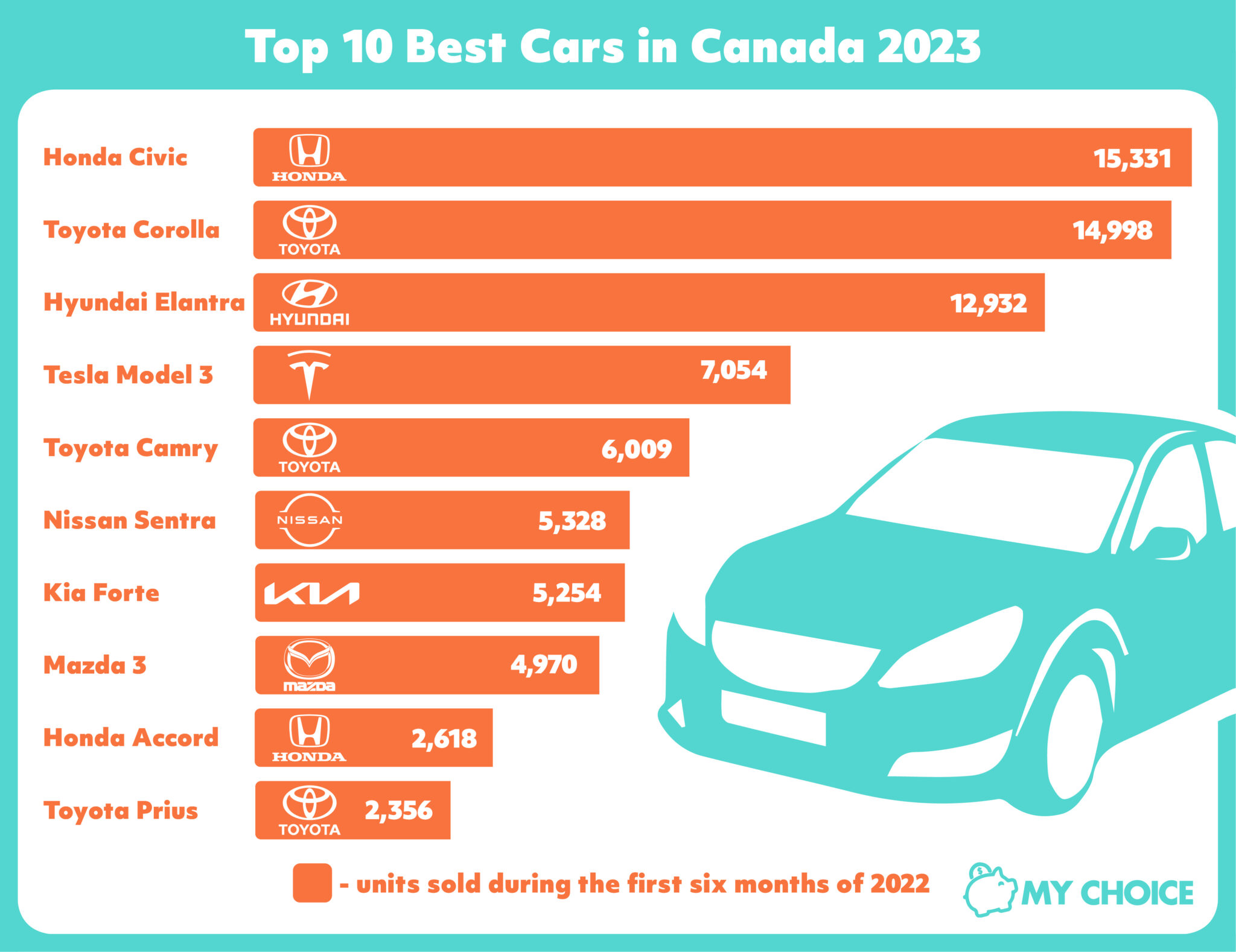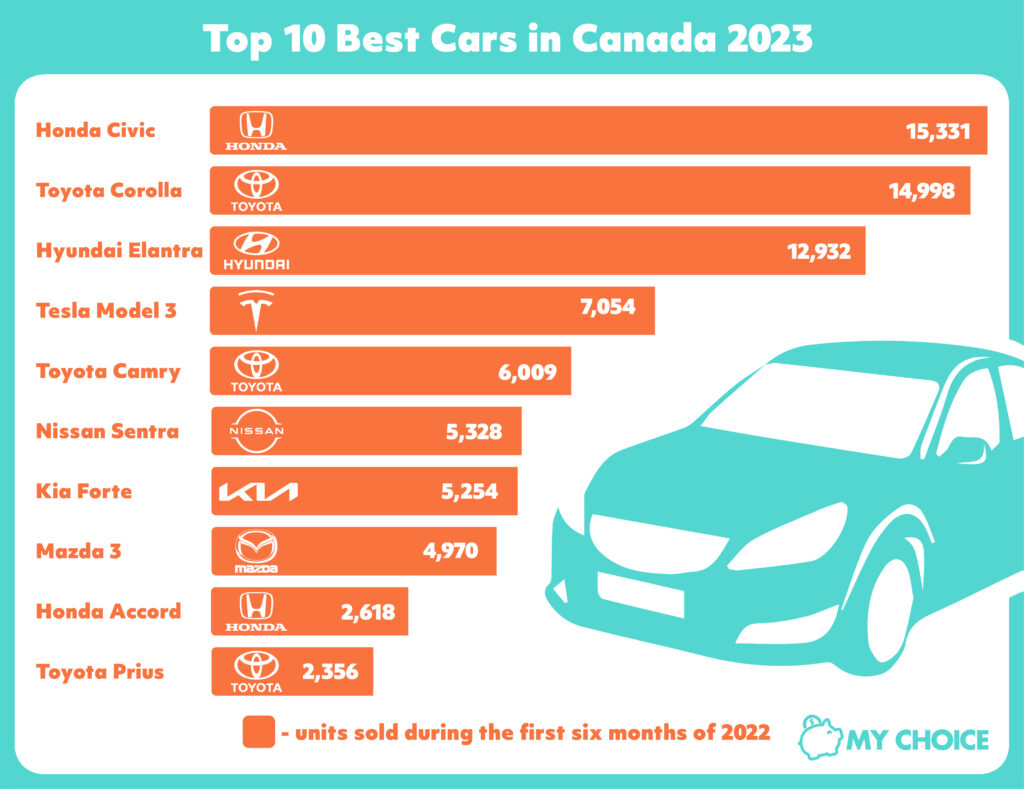 Toyota Prius
The 2022 Toyota Prius is one of the most popular hybrid vehicles thanks to its practical design that combines a city touch and a comfortable interior for passengers. This car includes an array of tech to keep any driver entertained during rush hour or long-distance travel; this is complemented by smooth handling that makes daily driving safe and less stressful. The exterior of the vehicle has a distinctive design, with angular lines that make it an urban, dynamic and youthful car. The shark fin antenna on top, the color bumpers, the door handles and the electric side mirrors are some of its outstanding design elements.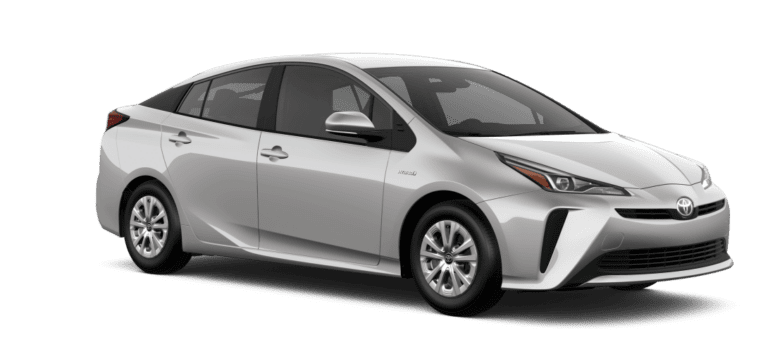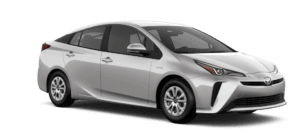 Honda Accord
The Honda Accord is one of the most popular sedans in Canada and across the world, thanks to a design that has managed to renew itself throughout the years without losing the features that differentiate it from the competition. This car offers a good degree of comfort, safety and technology that combined with powerful and smooth handling, will offer passengers and the driver an elegant and modern design.

Mazda 3
The Mazda 3 is available as a four-door sedan or five-door hatchback, this car is a joy to drive thanks to its super-sharp handling, sprightly yet efficient engine, and smooth transitions. This entry-level car also offers a number of features normally found in a more luxurious car, one example is its modern infotainment system that provides essential data to the driver while on the road. The Mazda 3 has a sporty design and an attractive exterior that makes it delightful to drive. Its a big contender if you're wondering what the best used car to buy in Canada is and are hoping to get a premium look for the price of a normal compact-car.

Kia Forte
Wondering what car you should buy? The Kia Forte is a great choice if you want a sporty vehicle that isn't so bad on the eye. It's more functional as a family car while giving the look of an outgoing sedan in form and driving experience, achieving an interesting balance between modernity, comfort and dynamic handling. It remains faithful to its brand principles with a correct distribution of space and a friendly interior for its daily use as a family car. There is a central armrest with storage space, as well as another with cup holders in the backseats and lastly its trunk offers 434 liters of storage capacity.

Nissan Sentra
This Japanese car is offered in four different versions with manual and automatic transmissions. Among the exterior features of the SR version are its mirrors with a shimmering black finish, electrical adjustment and integrated turn signal, LED headlights with daytime running lights, and lights with intelligent automatic on and off, with timer. It has a high level of technology and many security features. However, the handling is believed to not be as good as its looks so that's something to consider before purchasing this vehicle.

Toyota Camry
The Toyota Camry has become one of the world's best-selling midsize sedans thanks to a strong, modern and elegant design combined with a comfortable interior, quiet cabin, good fuel economy, and easy-to-use controls that make it ideal for family travel. It has a fairly classic and refined design that gives a touch of modernity. The shape is aerodynamic which, in addition to giving a solid appearance, contributes to greater stability.

Tesla Model 3
Electric vehicles have become popular over the years and Tesla is ahead of the game. The Tesla Model 3 is one of the most successful models in recent years, providing a reliable performance for city life. It has an attractive appearance and is very technologically advanced for those who want the latest bells and whistles at their fingerprints. The size of this car is ideal for everyday life and although it looks compact from the outside and a bit small, inside it has a spacious cabin, made of quality materials and various pieces of tech to aid comfort. Lastly, it's worth mentioning that the central console has USB ports to charge various devices at the same time and the premium upholstery of the seats that come standard.

Hyundai Elantra
The Elantra is a sedan that stands out for its safety rating and striking aesthetics that is fairly priced, it's known for offering great safety features that come standard with the vehicle. The exterior design is another attractive point of this car, the more recent models have changed to exhibit a more daring and striking approach.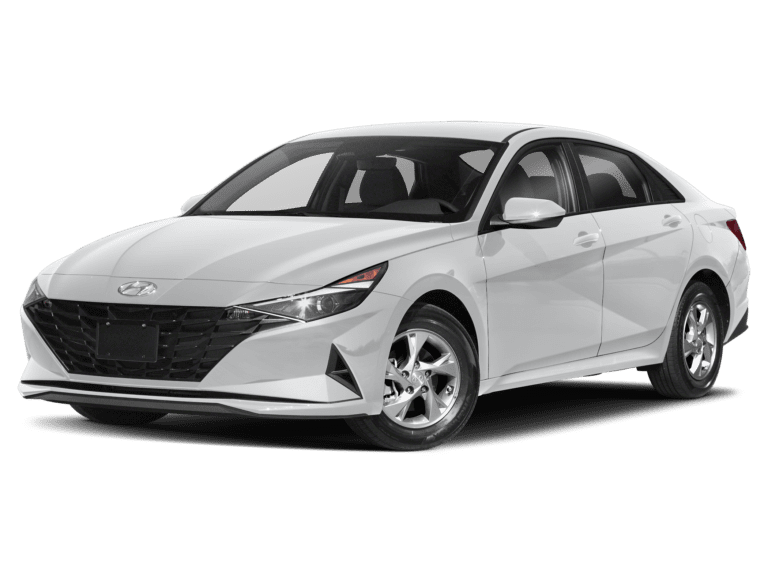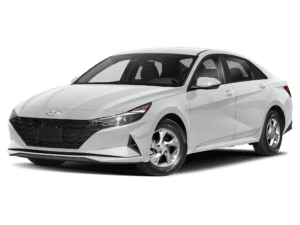 Toyota Corolla
The Toyota Corolla is a sleek sedan that looks more conservative than some of its rivals; however, it boasts an elegant and dynamic figure, which is complemented by various details and a sporty finish. It ranks among the best cars in its category by carrying a good number of security features that come standard. Along with a spacious cabin built with quality materials, it ranks favorably among the best cars to buy for a family in Canada.

Honda Civic
The Honda Civic has a dynamic and sporty design that, although it looks very modern, at the same time maintains certain features that make its appearance distinctive from its competition. It is available in six colors, from the classic gray, silver, black and white to two very striking shades: red and blue that emphasize the sporty aspect of this sedan. The interior is comfortable, and spacious and is in alignment with the modern style of the exterior. Among the comfort functions, it has a multi-infotainment screen that makes it easy for the driver and passengers alike to use.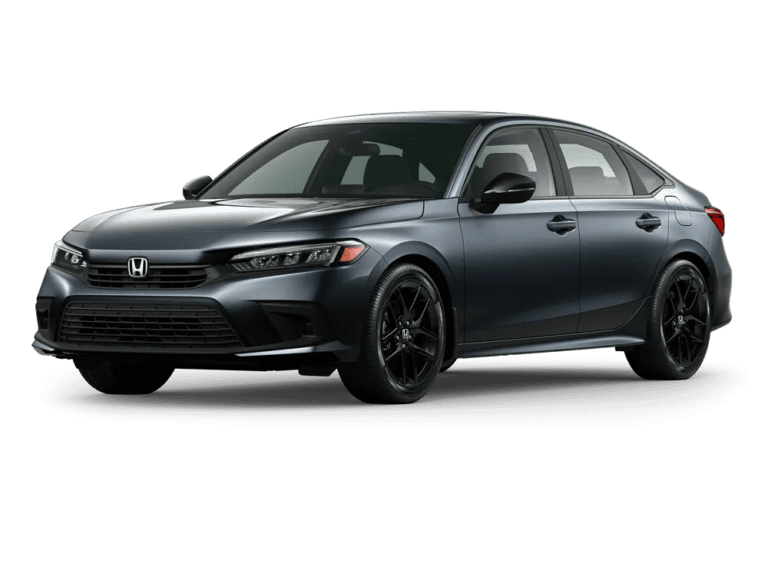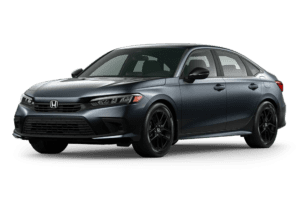 Car Insurance for Your New Vehicle
One of the most important things to consider when buying a new or used vehicle is car insurance, remember that driving without insurance in Canada is illegal and can result in a hefty fine and a potential mark on your driving record. Fortunately, you can find a fair insurance rate for all the cars mentioned above here at My Choice, allowing you to save money and find the right insurance for you. If you don't have car insurance yet, My Choice allows you to compare quotes from Canada's top insurance companies, where we connect you directly with the providers to make the process easy and convenient for you.