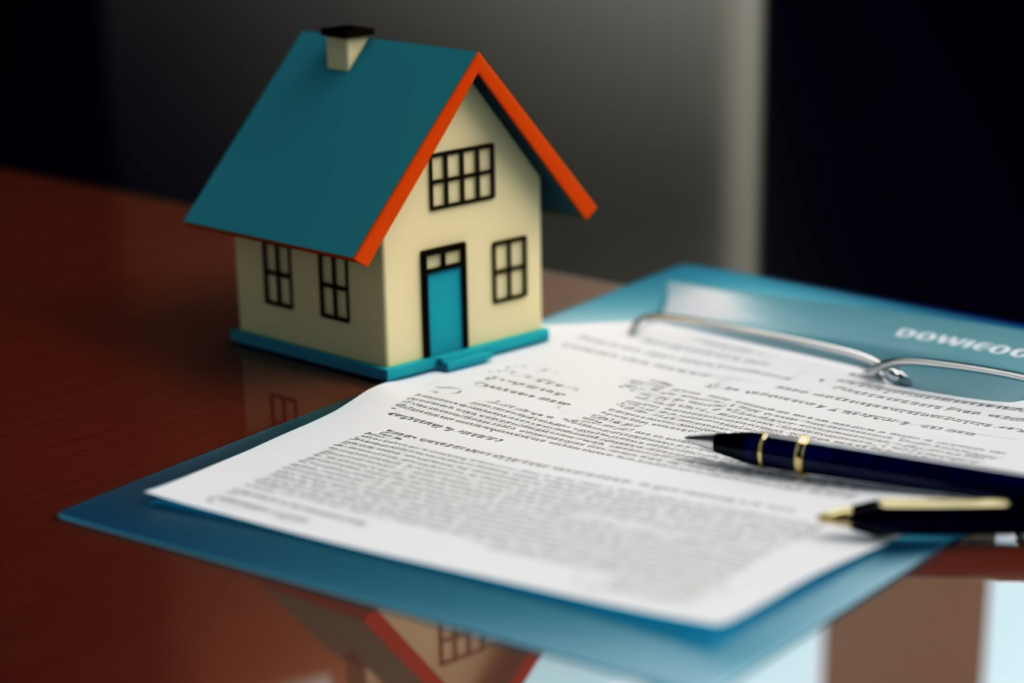 The average cost of renters insurance in Ontario is between $300 and $360 per year, depending on your city. If you're in the process of apartment hunting in Ontario, knowing how tenant insurance varies can better inform your budget.
While renters insurance may seem like a frivolous expense, having it can cushion the blow of repairs and replacements if anything happens to your rented home. In this guide, you'll learn about what tenant insurance is, how much it costs, and what factors influence your final payment.
What Is Renters Insurance?
Tenant or renters insurance protects the belongings within a rented home or apartment. A typical tenant insurance policy will provide personal liability coverage and support for living expenses.
If you are house poor and can no longer keep up with the expenses of maintaining a property, you might move into a rental and get tenant insurance instead.
Tenant Insurance and Home Insurance: What's the Difference?
The main difference between tenant insurance and home insurance is that the latter does not cover repairs or replacements to the actual building. Instead, that responsibility lies with your landlord. Home insurance also costs more.
You won't need to apply for home insurance if you're renting your home.
Is Renters Insurance Mandatory in Ontario?
No, renters insurance is not mandatory in Ontario. However, some Ontarian landlords require it in case of natural disasters, accidents, or thefts.
Applying for Renters Insurance
You can easily apply for a tenant insurance policy online on MyChoice. The process is simple – just provide your information, and we'll guide you through the rest.
Plus, you won't have to worry about renewing your tenant insurance yearly, as the policy often renews automatically. However, note that rates may change upon renewal, especially if you make a claim, install a security system, or make renovations. Thus, you should always review your information and update it before your policy renews.
What Tenant Insurance Covers
Tenant insurance policies vary depending on your location. However, you can typically expect your policy to include the following:
Personal liability coverage: If someone sustains an injury while visiting your apartment, personal liability coverage will protect you if the victim sues you.
Additional living expenses: If you become displaced due to a natural disaster or significant accident, additional living expense coverage will provide financial support for hotel costs and other necessities.
Contents coverage: If you lose your items to a disaster, accident, or theft, contents coverage will replace or repair them. While tenant insurance won't cover your vehicle, it can protect the belongings you leave in it. Learn more about how car theft can affect your insurance rates.
What Doesn't Tenant Insurance Cover?
Unfortunately, tenant insurance doesn't cover everything. Certain damages within your rental home will be up to your landlord's responsibility or fall under another policy you might not have.
Below are a few instances in which tenant insurance may not help:
Building damage: While tenant insurance will cover repairing or replacing your valuables in case of a flood, fire, or other disasters, it won't cover damage inflicted on the building itself.
Animal infestations: If you lose your belongings to the repercussions caused by pest infestations, tenant insurance won't cover it. You'll be better off shouldering fumigation costs.
Dog bites: If you own what your area considers a "high-risk" breed, tenant insurance won't cover any damage the animal causes to your belongings, roommates, or neighbours.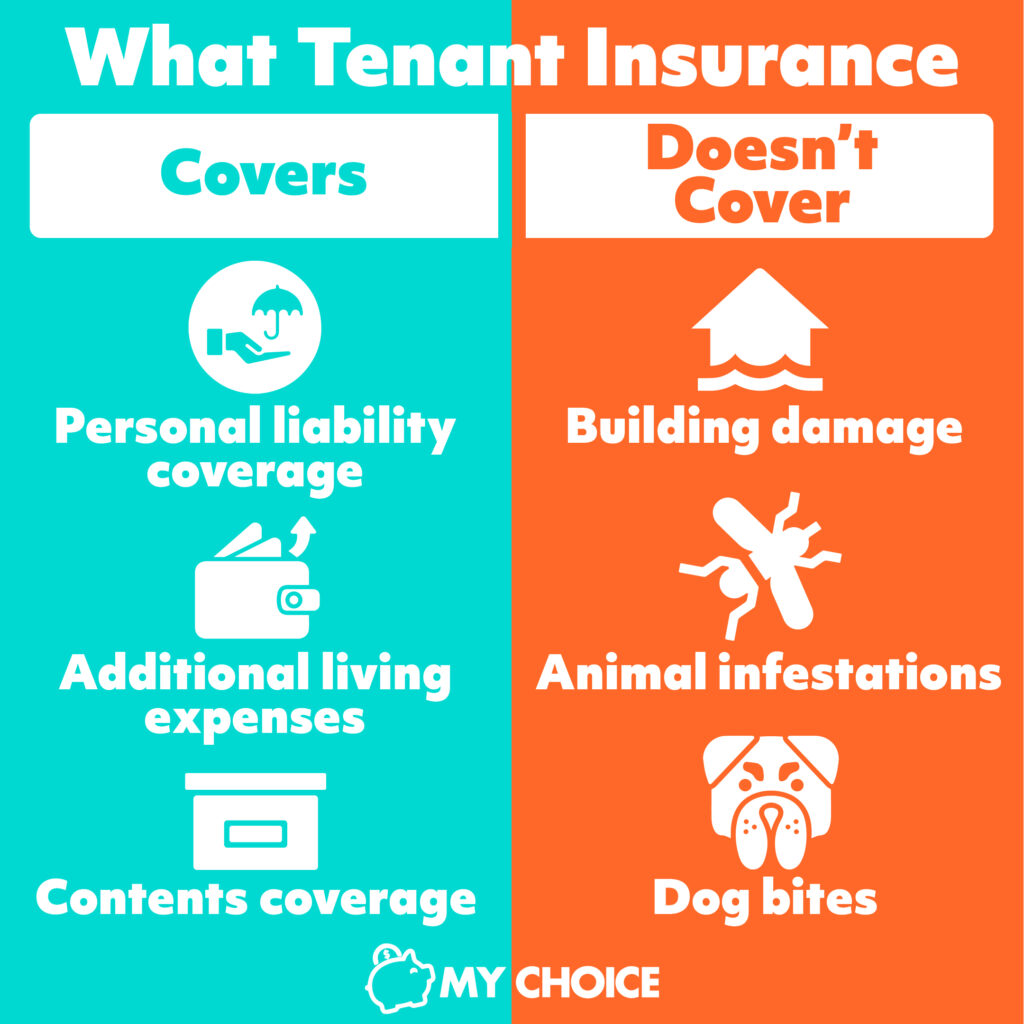 How Much Is Renters Insurance in Ontario?
The average cost of renters insurance in Ontario is between $300 and $360 yearly, or $25 and $30 monthly.
Remember that when you select a policy, your company will also expect you to pay a deductible amount, which you should consider when budgeting. This deductible amount varies from company to company.
How Much Is Tenant Insurance in Toronto and Other Ontario Cities?
Location is one factor that influences how much you pay for tenant insurance. Here are the average prices for renters insurance in Toronto and other Ontario cities.
Barrie: $200
Burlington: $202
Cambridge: $235
Hamilton: $200
Kitchener: $195
London: $203
Markham: $200
Mississauga: $196
Oshawa: $220
St. Catharine's: $225
Sudbury: $322
Toronto: $209
Vaughan: $285
Windsor: $295
Ultimately, how much you pay for tenant insurance depends on your unique living circumstances. These are just general averages.
Factors That Affect the Cost of Renters Insurance
Like any regular insurance policy, your tenant insurance can vary based on the following factors:
Building: Insurance companies will consider details about your building, such as size, HVAC system type, and age.
Credit score: Individuals with a better credit score will pay lower premiums for tenant insurance. Learn about how credit score influences insurance rates.
Claims history: If you've made multiple claims in the past, expect higher premiums. Insurance companies will automatically assume you're more likely to make a claim.
Deductible: Tenant insurance deductibles cost between $500 and $1,000. The higher the deductible you choose, the lower your monthly premiums will be.
Liability coverage: Do you want more liability coverage? Expect to pay higher rates. Most people take out a liability policy of $1 million, but you can extend this amount.
Personal property: Insuring a large amount of personal property will increase your rates, so consider paring down before moving into your new apartment. Generally, most personal property coverage starts at $40,000.
Additional coverage: If you apply for extras like earthquake, flood, and sewer backup coverage, expect a rise in your rates.
Tenant Insurance for Families
Good news for families renting apartments – every dependent (spouse, children, other relatives) can receive tenant coverage.
Tenant Insurance for Students
If you're a student living away from your family temporarily, tenant insurance may not be necessary, especially if you live in a dorm. Regardless, your items might already be protected under your parents' policy.
Tenant Insurance for Roommates
Unfortunately, roommates don't count as dependents. You must apply for individual tenant insurance or add a roommate to your existing policy.
Adding a roommate to your existing tenant insurance can increase your monthly rates between $15 and $20. Fortunately, adding a roommate to your policy is simple – you just have to call your insurance company.
How to Save Money on Your Renters Insurance Cost
Ontario is one of the most expensive cities, so saving even a few dollars on renters insurance can do wonders for your budget. Here are a few simple things you can do to reduce your monthly insurance premiums:
Compare options: With comparison tools like MyChoice, you can quickly discover the cheapest options on the market.
Install a security system: Securing your items gives you peace of mind and tells insurers you're more responsible for your belongings and safer to insure.
Increase your deductible: As with any insurance policy, increasing your deductible will lower your monthly rates.
Combine tenant and auto insurance: Multi-line policies often have sizable discounts. Learn how to choose the best car insurance company in our guide.
Inventory your items: Minimalist living can reduce the expenses of replacing items you lose in a disaster. Consider selling or donating some of your things before moving into your apartment.
Curate your policy: Getting content coverage if you don't have too many items may be unnecessary. Instead, you might consider limiting your policy to liability and fire coverage.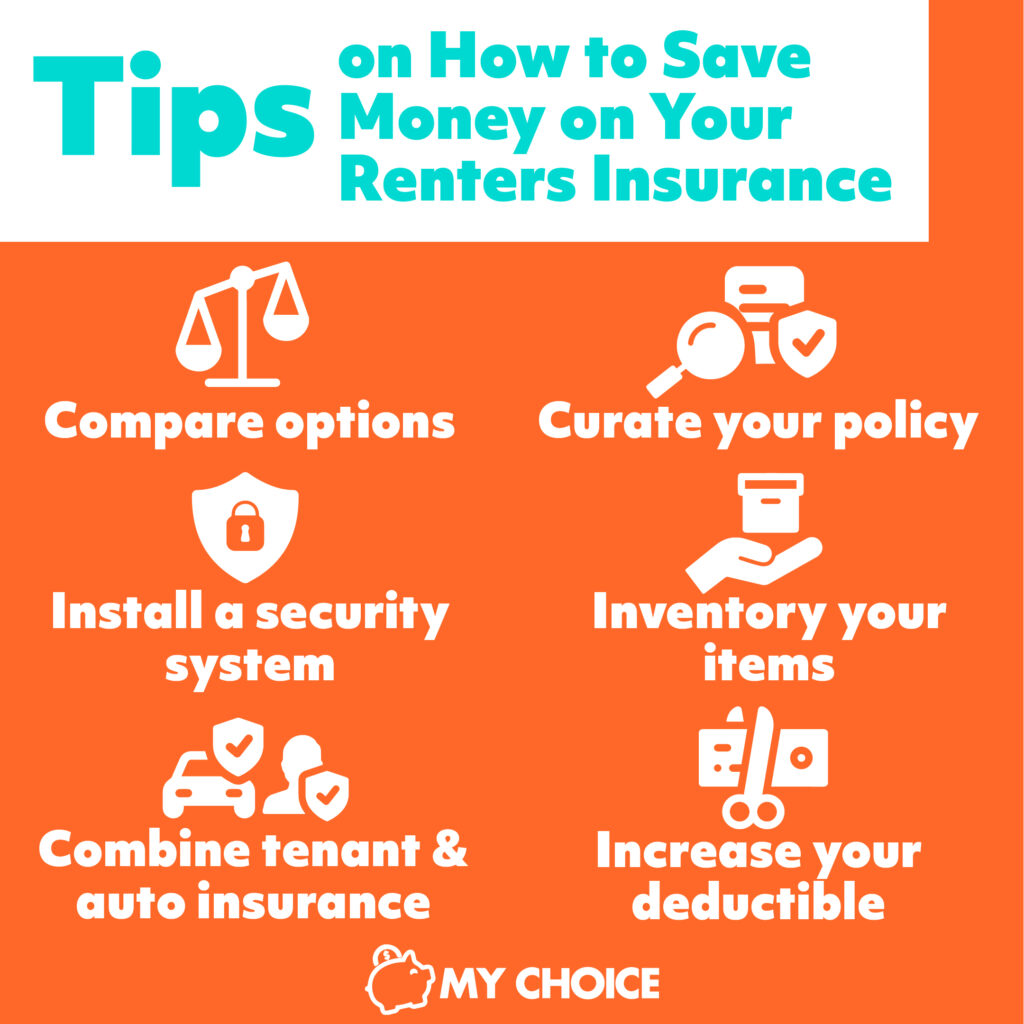 Do You Really Need Renters Insurance?
While renters insurance isn't mandatory in Ontario, having a policy can be helpful in certain situations. To determine whether tenant insurance is a good idea, consider whether you can repair or replace all your items if you lose them in an accident. Taking out a tenant insurance policy might be beneficial if you can't.
The Bottom Line
Again, tenant insurance in Ontario costs anywhere between $300 and $360. While it isn't necessary, you never know when an accident might occur in your rental apartment. Getting tenant insurance can provide the financial support you need in a disaster.