If your home expenses are eating up most of your income, you may be house-poor. During the pandemic, low mortgage rates convinced many people to buy a home in Ontario. But now, many new homeowners are feeling the financial stress of covering house-related costs for the first time, with some defining themselves as "house-poor".
House-Poor: Meaning And Definition
When someone is "house-poor", it means that they own a home but most of their income goes to home-related expenses such as mortgage payments, property taxes, utility bills, and maintenance costs. Being house-poor can make it difficult to cover other living costs and build up your savings.
There are several factors to consider before one is considered house-poor, such as the following:
Amount Of Gross Income Spent On The Mortgage
The Canada Mortgage And Housing Corporation (CMHC) has defined"affordable housing" as homes that cost no more than 30% of a household's income before taxes.
With the stagnancy of incomes and the increasing cost of living in Ontario, many people may find it difficult to keep a 30% cap on housing costs. If your house expenses are already well beyond this figure, you may be house-poor.
Your Ratio Of Debt To Income
You may already be house-poor if you have a high debt-to-income ratio. A debt-to-income ratio compares the amount you have to pay different creditors versus how much you make in a month. The final figure typically represents the amount that goes to paying off debts such as student loans, credit card bills, and home mortgage payments.
House-poor homeowners may find that their debt-to-income ratio is around 40% or even higher, especially after their houses have been damaged. If you don't have home insurance, much of your debts may be going to repair costs on top of your mortgage.
Savings And Assets
If you have a safety net that consists of enough savings and investments to cover your expenses, chances are you aren't house-poor. House-poor homeowners may have to dip into their savings or sell off personal assets to pay off their mortgages.
What Are The Risks Of Being House Poor?
Being house-poor can be an uncomfortable and embarrassing situation, but there are even more serious consequences to your financial future, this is what can happen if you think you fall within this category.
Home Equity Loss
Home equity is defined as the difference between the value of your house and the remaining amount still owed on your mortgage. For example, if your home is worth $900,000 and you still owe $780,000 in mortgage payments, then you have a home equity worth $120,000.
Some home lenders will allow you to borrow against your home equity to get cash. Interest rates on home equity may be lower than some traditional loans, making this option even more attractive. However, if you don't have a solid plan to pay this debt back in full, you may end up losing your house.
Exorbitant Loans
It can be tempting for many house-poor people to take out predatory loans just to cover mortgage payments. However, some refinancing options come with incredibly high interest rates or hidden fees.
In some cases, the interest rates offered by these new loans have rates that are even higher than those of the mortgage you're paying off. This makes it harder for you to pay off the refinancing loan's interest, let alone the principal – this can trap you in a cycle of debt.
Foreclosure
The worst-case scenario for homeowners is that they'll lose their homes if they fall behind on mortgage payments. While some lenders will give you a grace period to catch up on missed payments, you risk being forced to lose your home if you don't pay up quickly. On top of that, you face other financial consequences like losing the down payment and taking a hit to your credit score.
How Do I Avoid Being House Poor?
You can avoid becoming house-poor by keeping this important advice in mind:
Ask yourself if buying a home is the right decision for you: Buying a house of your own is a dream for many, but are you buying one simply because it's what you're "supposed to do"? As property prices continue to rise, consider if you're better off renting a condo or other property instead – especially if you're a young, mobile professional.
Set up an emergency fund: Before buying a house, have a small nest egg that you can use to pay for unforeseen repairs or mortgage payments in dire situations. This will come in handy if you find yourself paying for a huge, unexpected bill or if you're suddenly in between jobs.
Get an affordable home insurance plan: Let's face it, we can't prepare for all the unexpected damages that can happen to our homes. Thankfully, home insurance can cover expenses for situations such as storms, vandalism, and theft. Compare home insurance policies and get one with the best coverage for your budget and needs.
Are There Ways To Get Out Of Being House Poor?
If you're already house-poor, it's not the end of the line. There are still ways to stabilize your financial situation. Take a deep breath and consider these tips:
Cut out all unnecessary expenses: See which sacrifices can be made to your monthly bills. Simple ways you can lower your expenses include getting cheaper non-brand groceries or reducing the number of times you go out to eat.
Find ways to make additional income: If you need an extra source of funds, try picking up freelance work or selling homemade goods or crafts. You can also rent out a room or basement in your house.
Switch mortgage types: If you have a variable-rate mortgage, you may be struggling to predict your monthly expenses because of fluctuating interest rates. When your mortgage term renews, consider switching to a fixed-term mortgage. While you'll have higher mortgage payments and interest rates in the short term, you'll be protected from fluctuating interest in the long run.
Sell your house: Given the rising cost of real estate in Ontario, you may find that selling is the best option when you're in a very tight spot. Ideally, you should get a price that can cover all your remaining home costs plus the cost of moving. Afterwards, find an opportunity to downsize to a condo or move to a more affordable neighbourhood, so you can find a good home without compromising your financial goals.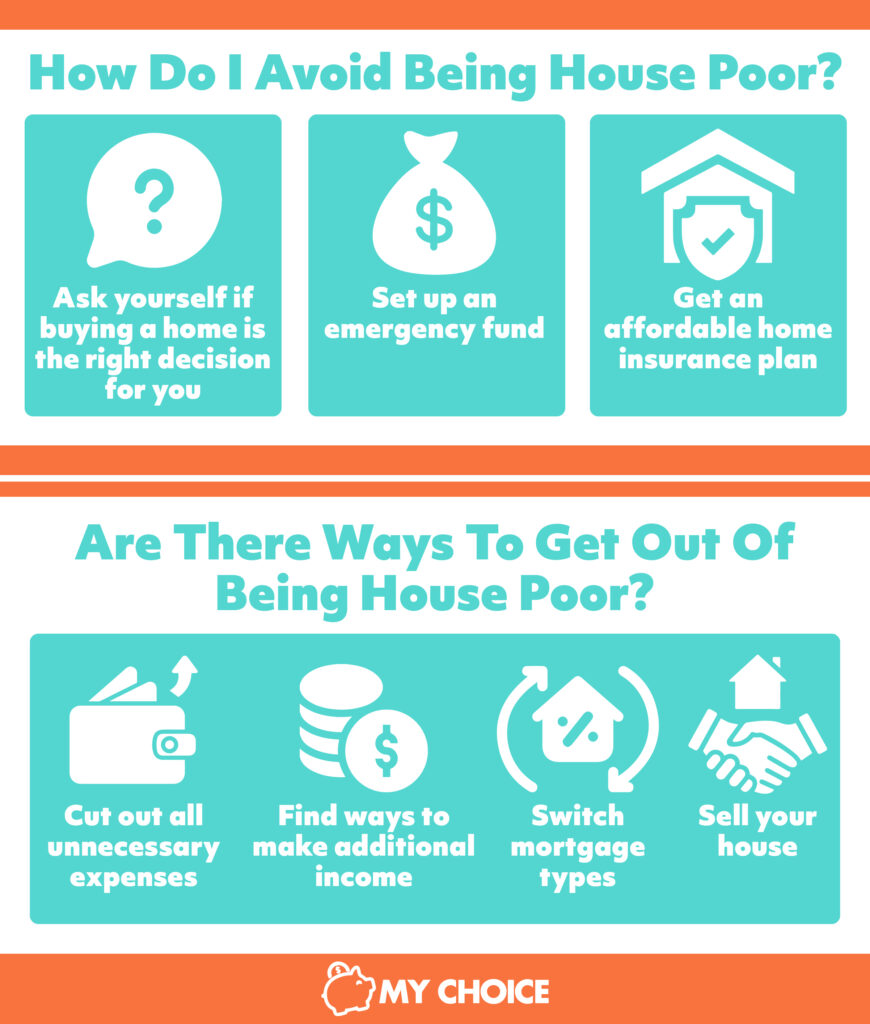 The Bottom Line
When you're house poor, most of your money goes to utilities and home maintenance. Many house-poor homeowners may struggle with discretionary spending or skip vacations because of house-related expenses. In the worst cases, house-poor people deplete their savings just to stay in their homes.
Being house-poor can be daunting, but there are still ways to avoid getting trapped in its pitfalls or get out of it. At MyChoice, you can get affordable home insurance that can cover major repairs or compensate you if you've lost your home. Consult us today to get the best rates and protect your finances!