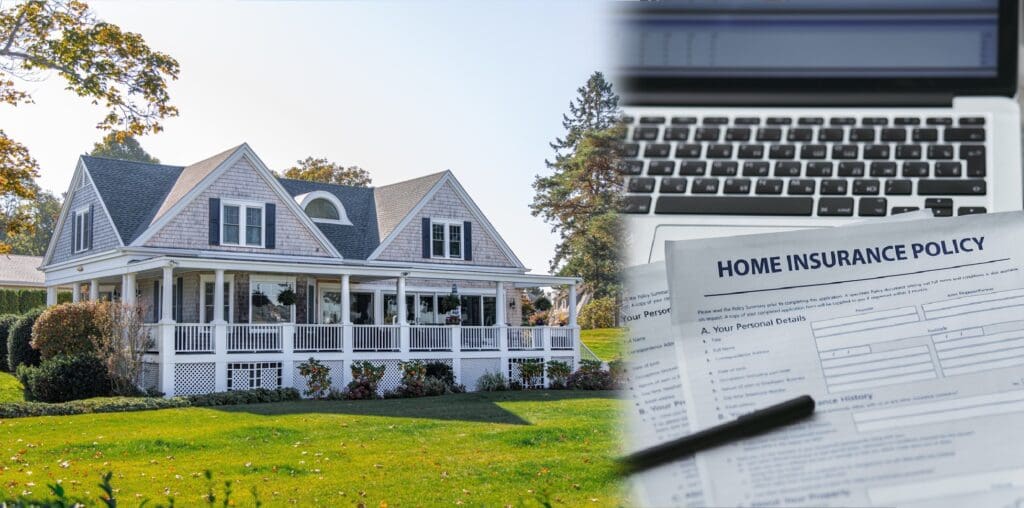 If you're about to buy your home in Ontario, you'll likely need to purchase home insurance so that lenders can give you a mortgage loan. If you already own your own home, it is not mandatory to have home insurance, but it is highly recommended since its usually one of the most valuable asset that Canadian families have.
Home insurance will provide cover for any unexpected events at home, the average value of this insurance has increased considerably in recent years.
In the following article we explain what is influencing this increase, the factors that determine the cost of home insurance in Ontario and some recommendations to save on your monthly premium when purchasing your home insurance.
How Much is Home Insurance in Ontario?
Based on multiple insurance quotes requested in the last year, the average cost of home insurance in Ontario is around $1,487 per year in 2022. Compared to last year's average cost of $1,282, we can see a 16% increase. This can happen because insurance companies can increase insurance rates at their own discretion and without regulatory approval.
Why Is the Average Price of Home Insurance in Ontario so High?
Many factors contribute to Ontario's high average cost of home insurance. Let's dive in.
Home values have increased
According to the Canadian Real Estate Association, the average home in Ontario costs $741,395. In terms of real estate, it is the second most expensive province, trailing only British Columbia (average house price: $801,039).
Naturally, more expensive homes cost more to insure against threats such as fires and vandalism.
Insurance fraud is happening more often
Ontario is well-known for having alarmingly high rates of insurance fraud and it isn't limited to people setting fire to their own apartments.
Even subtle types of fraud (such as inflating the cost of a stolen item when filing a claim) can cost insurers millions of dollars in lost revenue. These fraudulent expenses are passed on to customers, which is another reason why Ontario's average house insurance costs so much.
More natural disaster claims
Severe weather is causing damage to an increasing number of homes in Ontario. As a result, the number of record claims has increased.
People are also increasingly renovating and renting out their basements, according to a CBC report. As a result, when basements flood, an entire home can now be lost, resulting in higher claims.
These costs are once again passed on to the consumer.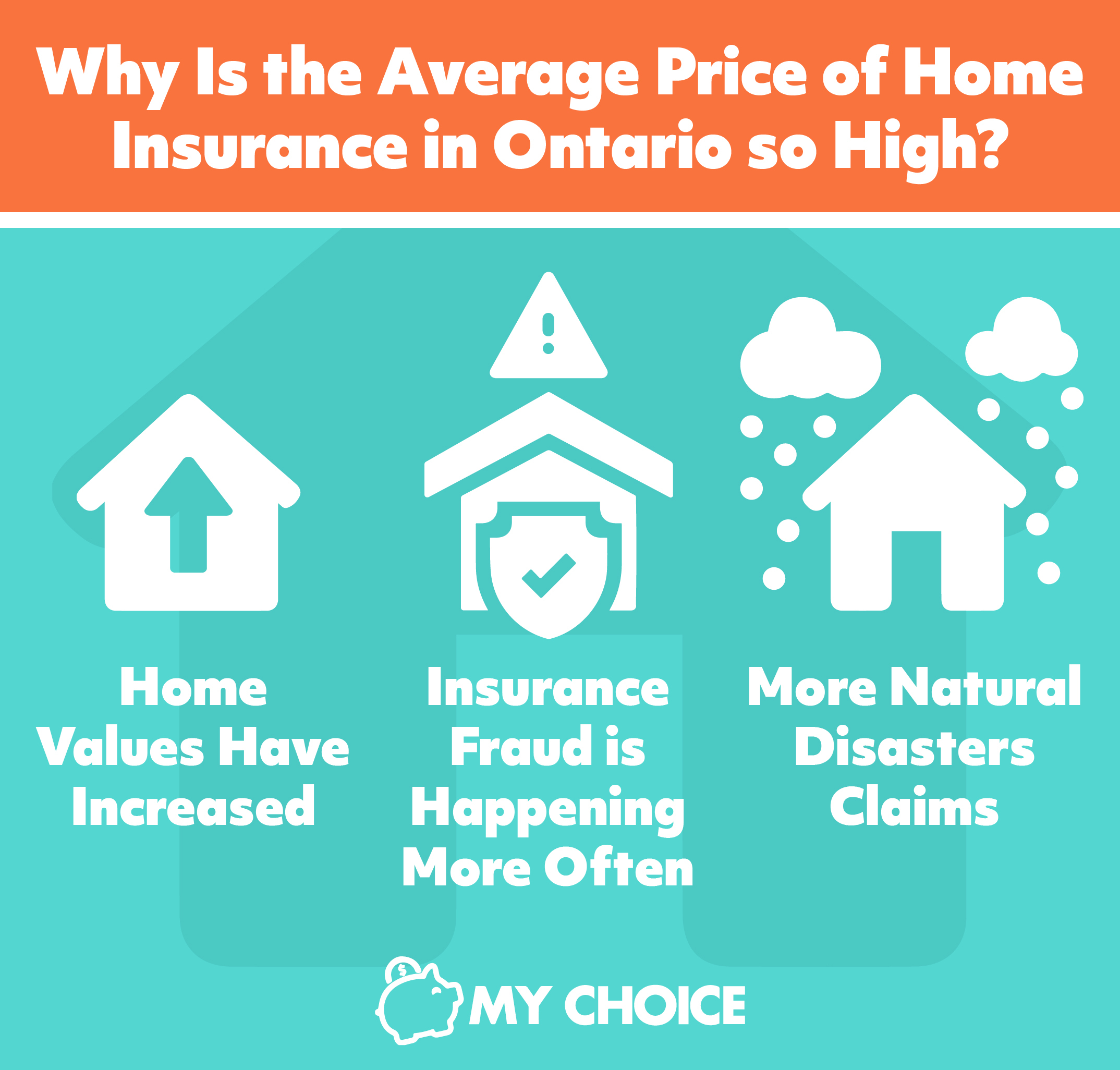 Factors That Influence The Cost of Home Insurance In Ontario
To determine your level of risk, Ontario home insurance companies consider several factors. The higher the risk, the higher the premium for coverage.
The following factors have the greatest influence on the cost of your home insurance policy:
The value of your house
If your home is expensive, you should expect to pay more for insurance because your provider will have to pay more in the event of a claim.
The neighbourhood where the house is located
If you live in an area with high crime rates, your premium will be higher in order to compensate for the increased risk. This isn't limited to poor neighbourhoods; wealthy neighbourhoods can also have a high rate of claims, including car thefts.
The deductible
A higher deductible will result in a lower premium, and vice versa. However, keep in mind that a higher deductible will require you to pay more out of pocket in the event of a claim.
The coverage limit
The amount and type of coverage in your home insurance will affect the cost of your premiums. In exchange for this protection, you'll have to pay a higher premium.
Claims history
Providers may raise your rates if you have a history of filing home insurance claims. Remember that a long history of home insurance claims indicates that you live in a high-risk area.
If you've ever been convicted of insurance fraud, your rates will almost certainly be much higher than the average home insurance price in Ontario.
Overall construction
The cost of your home insurance is primarily determined by the replacement cost of your home. The more expensive it is to repair or rebuild your home, the higher your insurance premiums will be.
Some Tips on How to Reduce The Price of Home Insurance in Ontario
Bundle your insurance
Insurance companies frequently offer discounts when you combine your home and auto insurance policies. If you have these policies with different companies, contact them to find out what the discounted rate is.
Increase your deductible
Consider raising your deductible in exchange for lower premiums if you can afford it. When doing this, make sure to have enough cash saved for an emergency since an accident can happen at any time and you might need this money in short notice.
Pay your insurance annually
Many insurance companies will give you a discount if you pay your premiums in full each year. If you can afford it, this is well worth considering.
Compare rates when shopping for home insurance
MyChoice assists people in Ontario find the best insurance rates available. MyChoice accomplishes this by comparing multiple providers to find the best coverage for your specific needs. Our process is much faster and more comprehensive than you'd likely be able to complete on your own.
Ask your insurance company
Don't be hesitant to ask your insurance provider how you can reduce your premiums. Some insurance providers, for example, offer discounts to customers who have home security systems installed.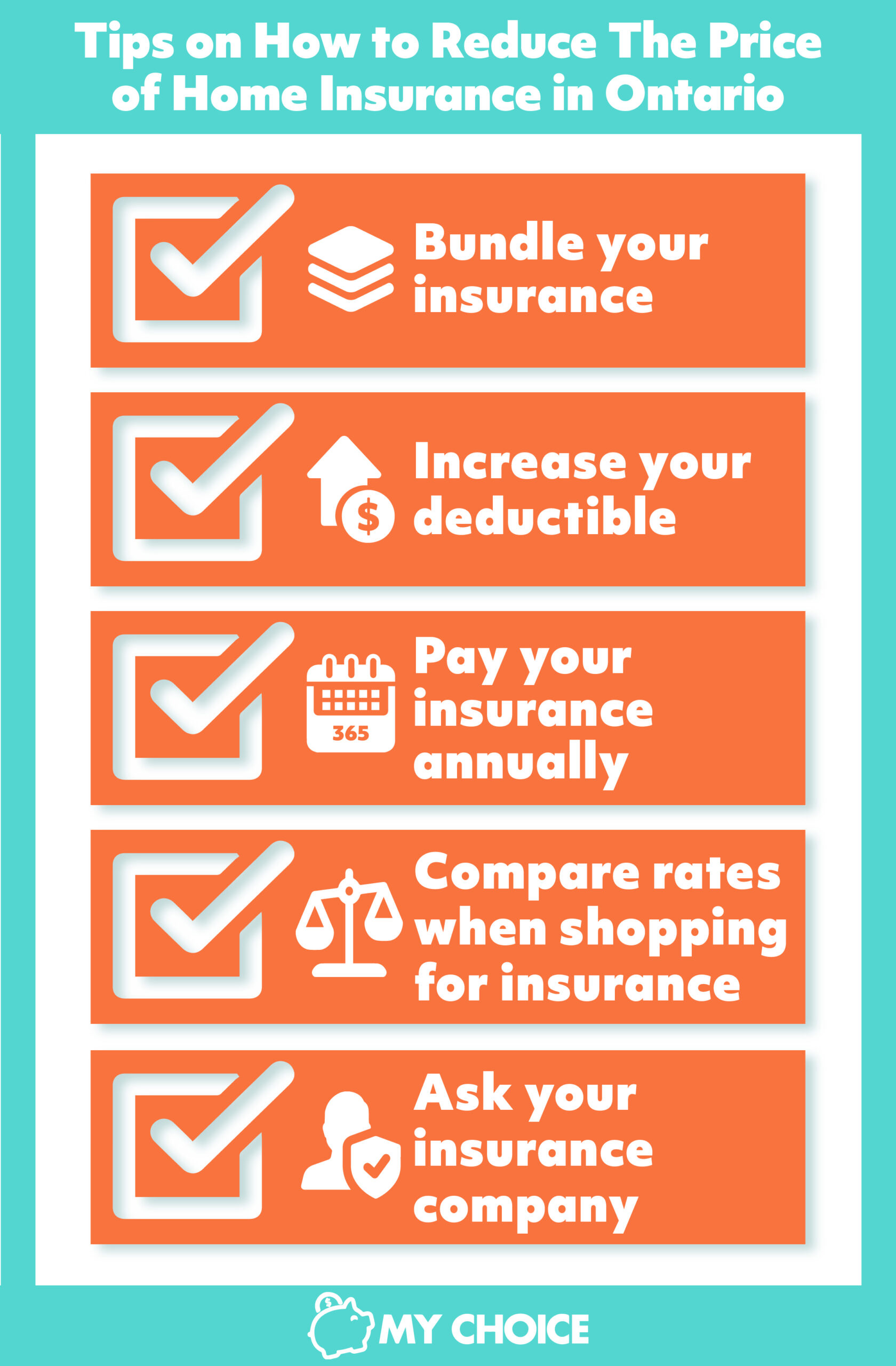 Cities With the Average Highest Home Insurance In Ontario
An increase of about 16% between the 2021 average provincial premium and the 2022 average provincial premium is also due to an increase in severe weather incidents, supply chain issues, and a labor shortage.
Premiums for waterfront properties were significantly higher. For example, the average annual home insurance rate in LaSalle, Ontario, near Windsor, was $2,411. The Windsor area is extremely flat and highly susceptible to flooding. The LaSalle residential area is located along the Detroit River.
| City | Premium |
| --- | --- |
| LaSalle | $2,411 |
| Windsor | $2,139.47 |
| Hearst | $2,046 |
| Foleyet | $2,046 |
| South Porcupine | $2,046 |
| Keewatin | $2,033 |
| Fort Frances | $2,023 |
| Val Caron | $2,005 |
| Elliott Lake | $2,005 |
| Kapuskasin | $2,005 |