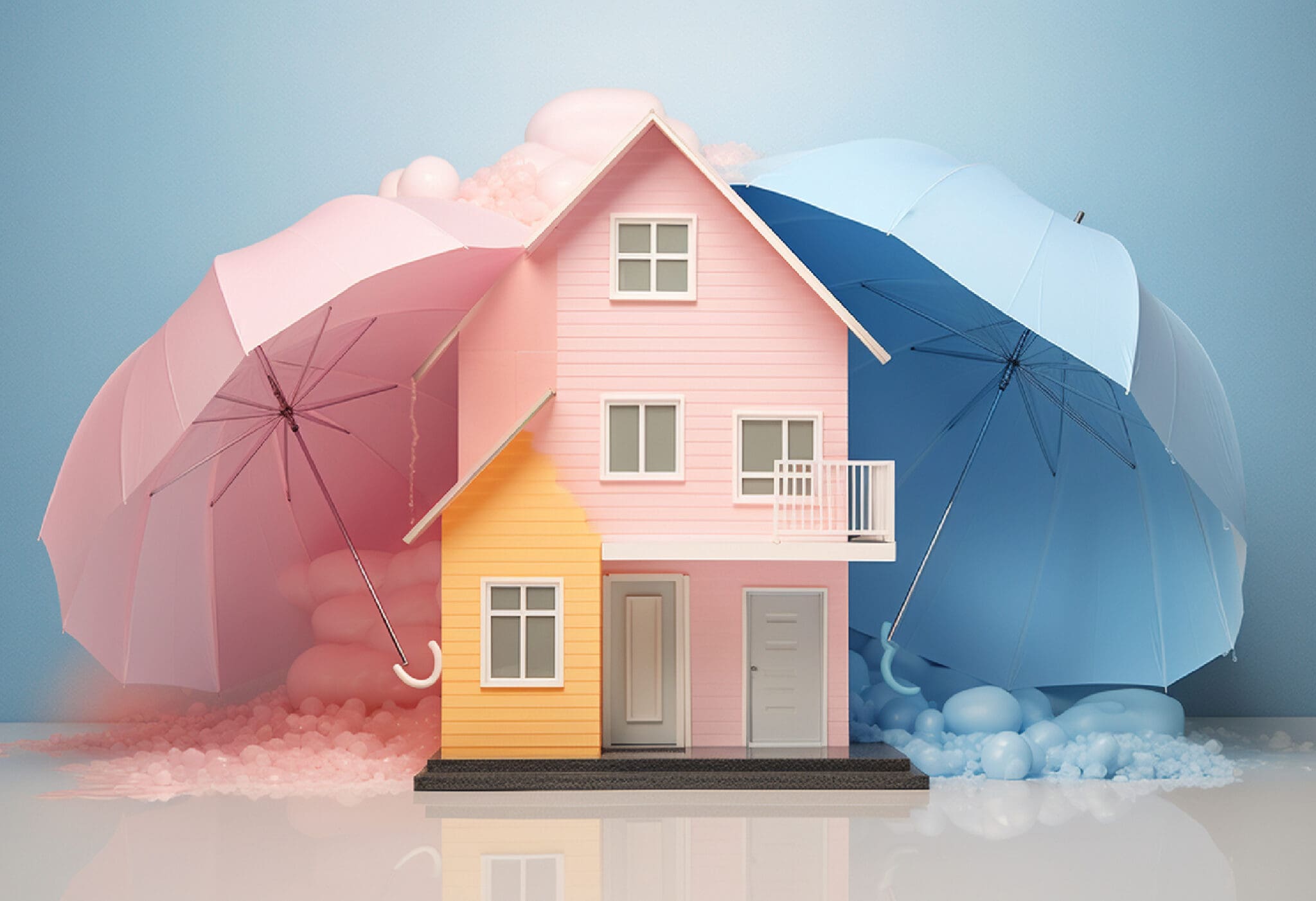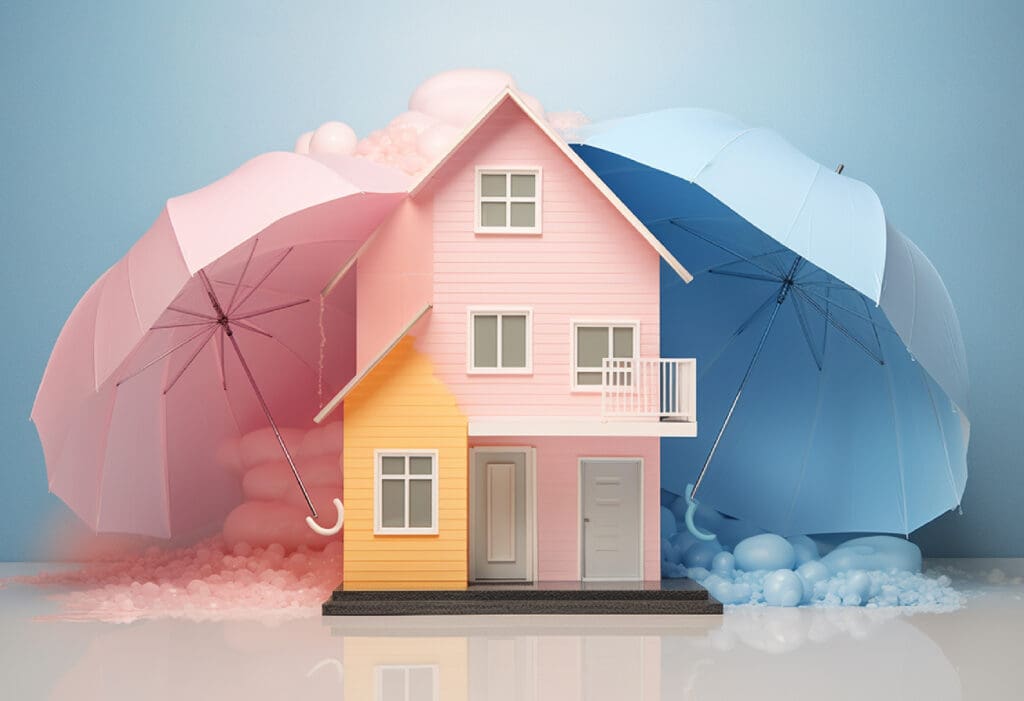 Home insurance is a crucial aspect of homeownership, providing a safety net for your most valuable asset. But with various types of home insurance available, it can be perplexing to determine which one is right for you. Two of the most common types are comprehensive and broad home insurance. Both types are designed to protect your home and belongings from unforeseen events. However, the extent and nature of the coverage differ.
Broad Home Insurance Defined
According to the Insurance Bureau of Canada, broad home insurance primarily covers your property if it's damaged or destroyed. However, it only protects the contents of your home (like your personal belongings) if they're damaged or destroyed by a peril specifically named in your policy. For instance, if a fire engulfs your property, damaging both the structure and the items inside, but fire is only a named peril for the structure and not for the contents, you'd be reimbursed for the structural damage but not for the lost belongings. Common perils covered under broad home insurance include fire, theft, smoke, lightning, and more. Additionally, make sure to check the best coverage options for fire insurance.
Comprehensive Home Insurance Defined
Often referred to as "all perils" insurance, comprehensive home insurance offers more extensive coverage. It protects both your home's structure and its contents from any damage or loss unless specifically excluded. This means if a burglar breaks into your home and steals your belongings, or if a fire damages your property and the items inside, a comprehensive policy would cover both the structural damage and the lost items.
Key Differences Between Broad vs Comprehensive Home Insurance
Coverage Specificity: Broad home insurance offers protection for named perils only, whereas comprehensive insurance provides coverage for all perils unless explicitly excluded.
Extent of Coverage: Comprehensive insurance typically provides more extensive coverage, mainly concerning personal belongings inside the home.
Cost Implications: While broad home insurance might be slightly cheaper, the difference in premiums isn't substantial. Given the wider coverage of comprehensive insurance, many homeowners find it offers better value for money.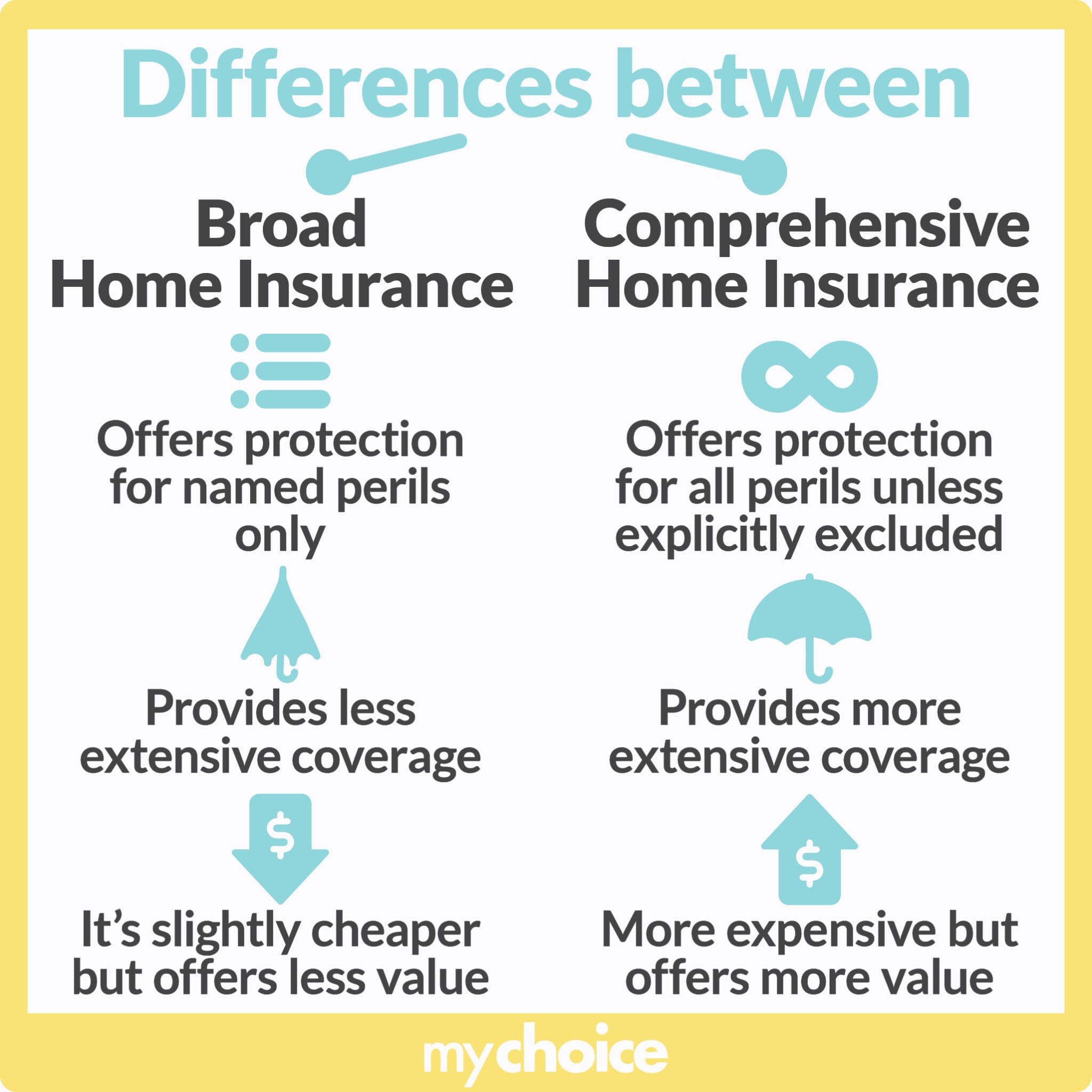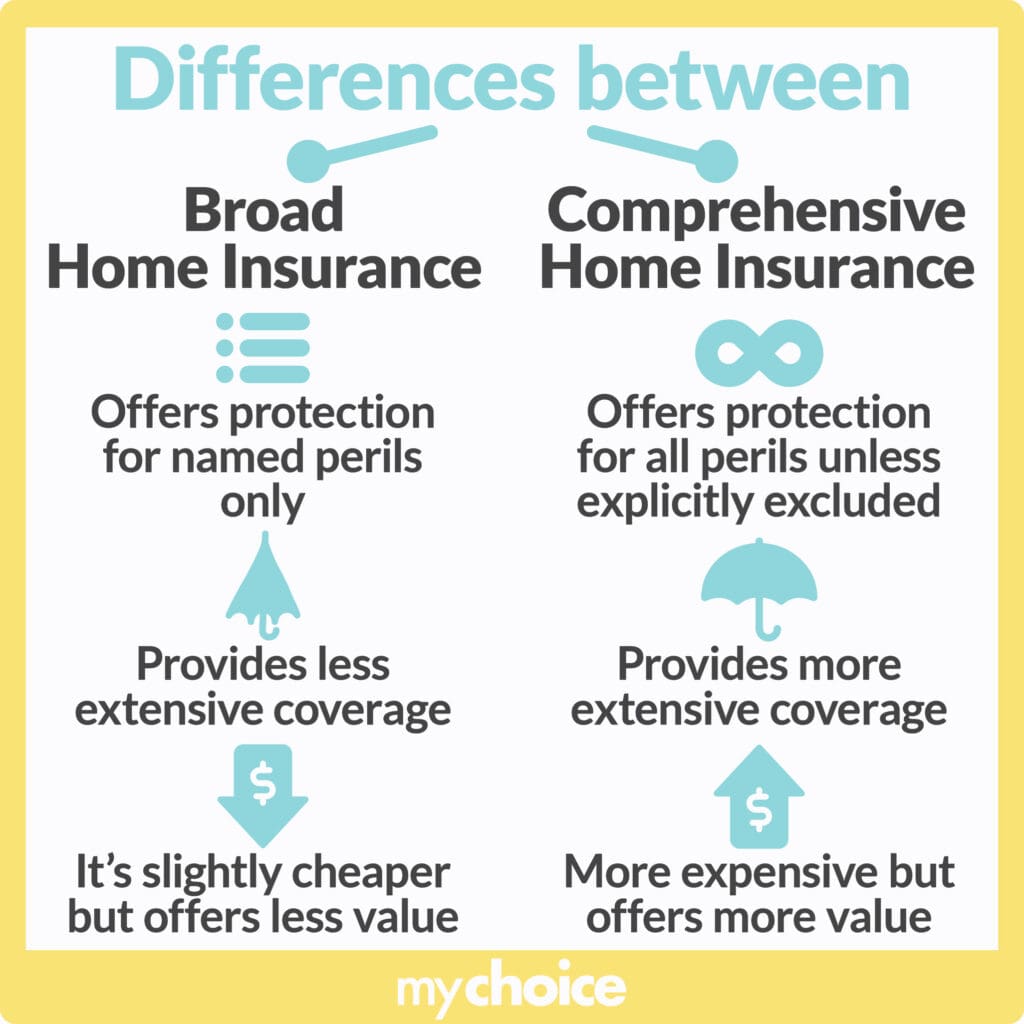 What About Named Perils Home Insurance?
Another type to consider is named perils insurance. This policy exclusively covers the perils you specifically choose. If a peril isn't named in your policy, it's not covered. It offers a customized approach, allowing homeowners to select the risks they feel most exposed to. However, it's essential to be thorough and considerate when choosing perils to ensure adequate protection.
What Isn't Covered in Both Broad and Comprehensive Home Insurance?
No insurance policy covers everything. Both broad and comprehensive home insurance typically excludes the following:
Damage resulting from negligence or lack of maintenance.
Damage caused by pets or pest infestations.
Natural disasters like floods or earthquakes, unless additional coverage is purchased. Visit our article to learn more about flood insurance.
Damage resulting from war, terrorism, or illegal activities.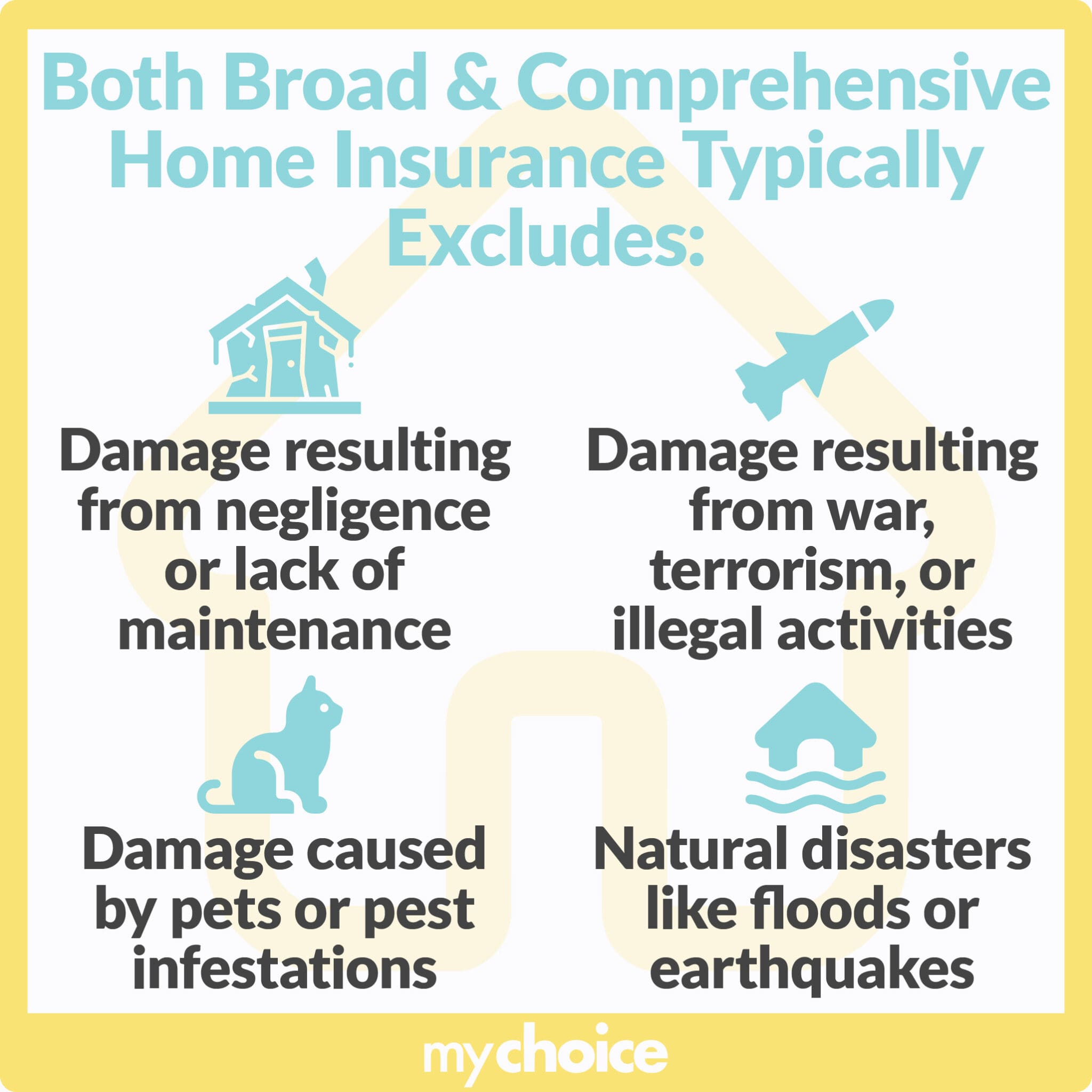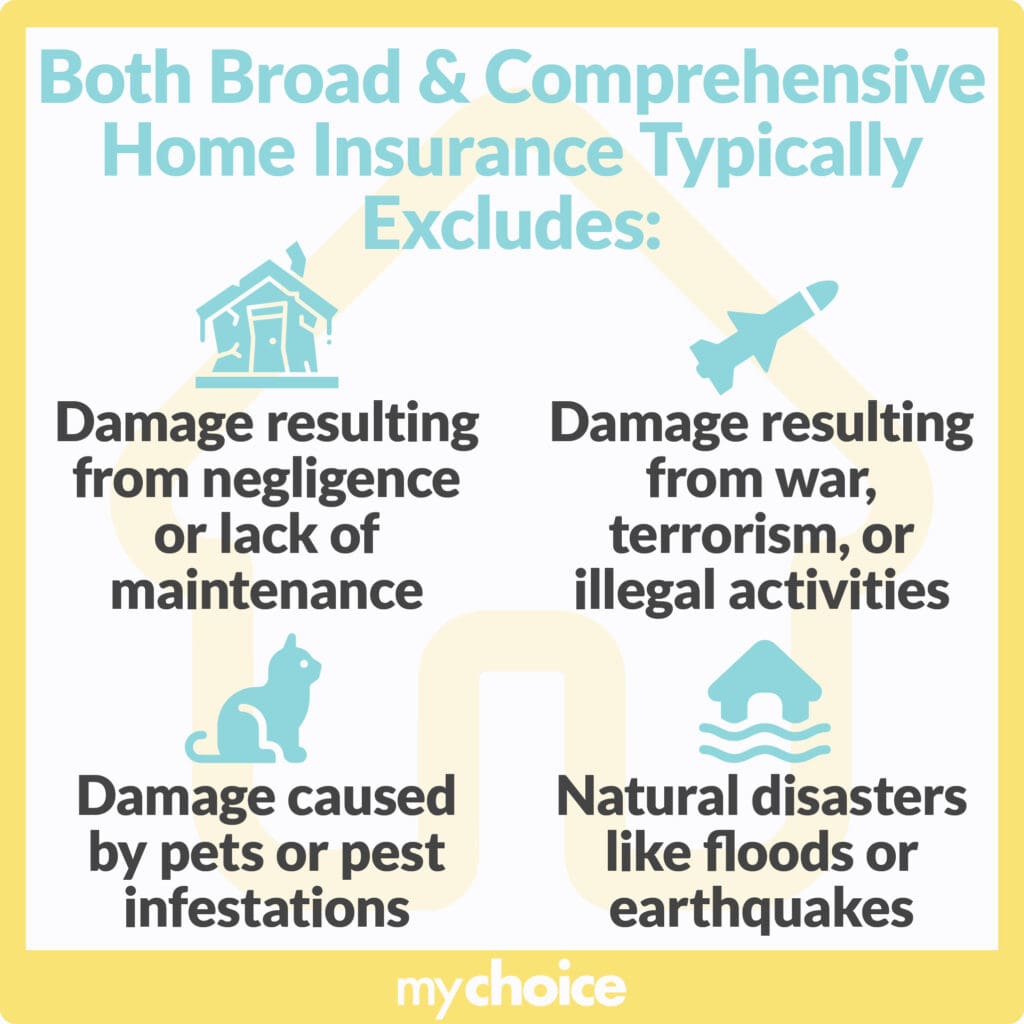 Which Coverage Should You Choose?
The choice between broad and comprehensive home insurance boils down to your specific needs and risk tolerance. Comprehensive insurance might be more suitable if you have many valuable items in your home, such as antiques, jewelry, or high-end electronics. However, broad insurance might suffice if you're just starting out and haven't accumulated many valuables. Always consult with an insurance broker to understand the nuances of each policy and make an informed decision.
Considerations for Young Homeowners
Young homeowners, especially those purchasing their first homes, might find broad home insurance more appealing due to its affordability. However, as they accumulate more valuables over time, there might be a need to reassess their coverage. Between 1971 and 2016, the homeownership rate for young adults aged 20 to 34 declined from 55.5% to 43.6%. This decline was more pronounced for single young adults, where the rate plummeted from 30.3% to 19.8% during the same period. It's always a good idea to periodically review your insurance policy, especially after significant life events or purchases.
The Bottom Line
Understanding the difference between broad and comprehensive home insurance is crucial to ensure you have the proper protection for your home. While both offer valuable coverage, it's essential to assess your individual needs, consult with professionals, and choose the policy that provides peace of mind and financial security.