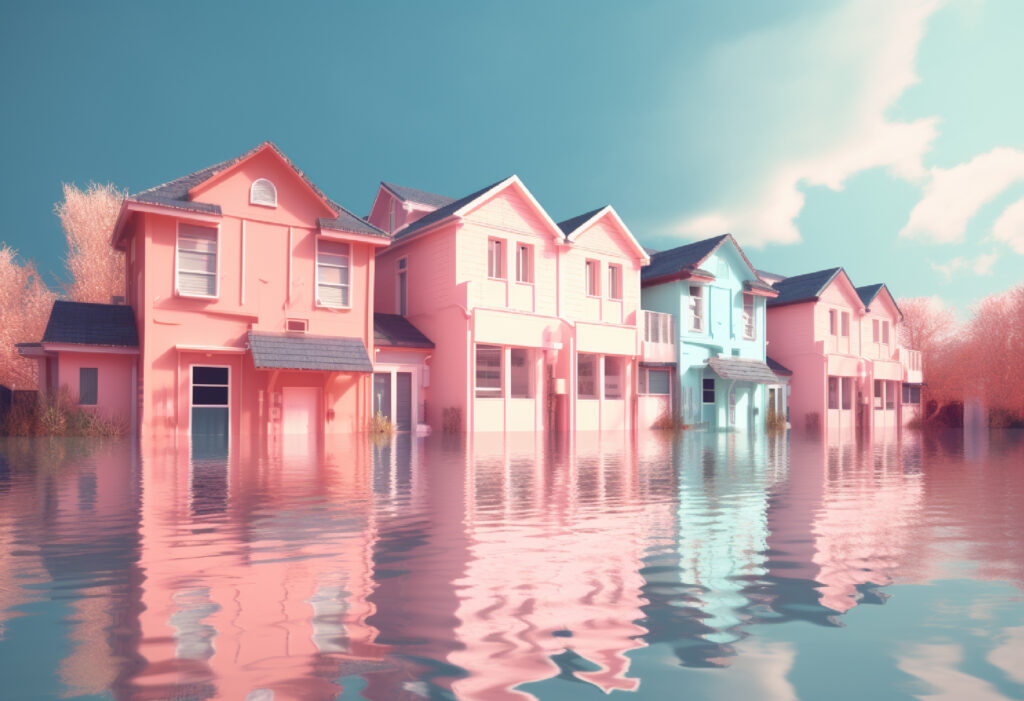 Flooding has become a growing problem in Canada. According to the Government of Canada's website, urban flooding from 2003 to 2012 resulted in over $20 billion worth of damages. In fact, water is the leading cause of home insurance claims in the country today, taking up 48% of all claims.
As such, homeowners and tenants should make sure they're properly insured for all the different types of water damage. Here, we take a look at an oft-overlooked source of water damage: overland flooding.
Read on to learn more about overland water coverage, its cost, and whether it's necessary for you.
What Is Overland Water?
Overland water is water that overflows from a body of freshwater, such as a lake or river, that enters homes, vehicles, or other types of property and causes damage.
Overland water is typically caused by heavy rainfall over short durations, extreme storms, and melting snow or ice. It can enter properties through windows and doors, rendering them unusable while flooded or under repair.
Understanding Water Damage Coverage
Overland flood coverage is not typically included in home insurance policies but can be purchased as an add-on for additional protection. Those who live near lakes and rivers or along low-lying areas are recommended to purchase this additional coverage, particularly as extreme weather is becoming more and more of a common occurrence.
To better understand the difference between standard water damage coverage and add-ons such as overland water coverage, check out the basics of water damage coverage below.
Want to find out if home or auto insurance covers your car in storm damage? Read our home insurance guide to learn more. Looking to renovate your home or take out a new mortgage after significant overland water damage? Look up the best rates for home improvement loans and mortgages on our site.
What Is Basic Coverage?
Basic water damage coverage protects you from sudden or accidental damage caused by a source inside your home, like a burst pipe, overflowing washing machine or bathtub, ice damming on your roof, water spilling from a swimming pool and into your basement, a leaking hot water tank, a broken aquarium, etc.
What Is Sewer or Septic Backup Coverage?
This type of coverage protects you against losses caused by water backup from sewer or septic systems. This type of problem can happen when a sewer system cannot take on the amount of water brought on by heavy rainfall. Sewer or septic backup can also happen when plumbing lines get clogged with sewage or a sump pump malfunctions, leading to overflow.
Back-up water can come up from your toilet, sink, or floor drains and cause damage to the lower levels of your property.
What Is Overland Water Coverage?
Overland water coverage protects you from damages caused by freshwater that overflows from a river, lake, or other nearby body of water – typically from rainfall, snow, or ice accumulated over a short period.
This type of insurance covers damages from rain accumulation that seeps into basement windows or cracks in basement walls, rainwater flowing through garage doors, as well as sewer backup caused by immense rainfall and freshwater overflow.
Overland Water Coverage vs Flood Coverage
In the insurance industry, overland water damage is distinct from flood water damage. The former describes water damage caused by freshwater, while the latter describes damage caused by coastal water or saltwater. This includes damages incurred from tidal waves and tsunamis.
Who Is Eligible for Overland Water Coverage?
Unfortunately, not all property owners will be eligible to add overland water coverage to their home insurance policy.
Those who own or rent properties in high-risk flood zones may not be able to purchase this add-on, as the risk will be too high for the insurance provider. Typically, those who live within 100 meters of flowing bodies of water such as rivers or springs and those whose driveways slope downwards towards their house may be considered high-risk candidates.
Take note that an overland water coverage add-on does not cover the following types of losses:
Rainwater or melted snow that enters the property through an open door or window
Water that leaks through a poorly-maintained roof
Damages that accumulate over time from neglected appliances or structures
Damages from saltwater or coastal floods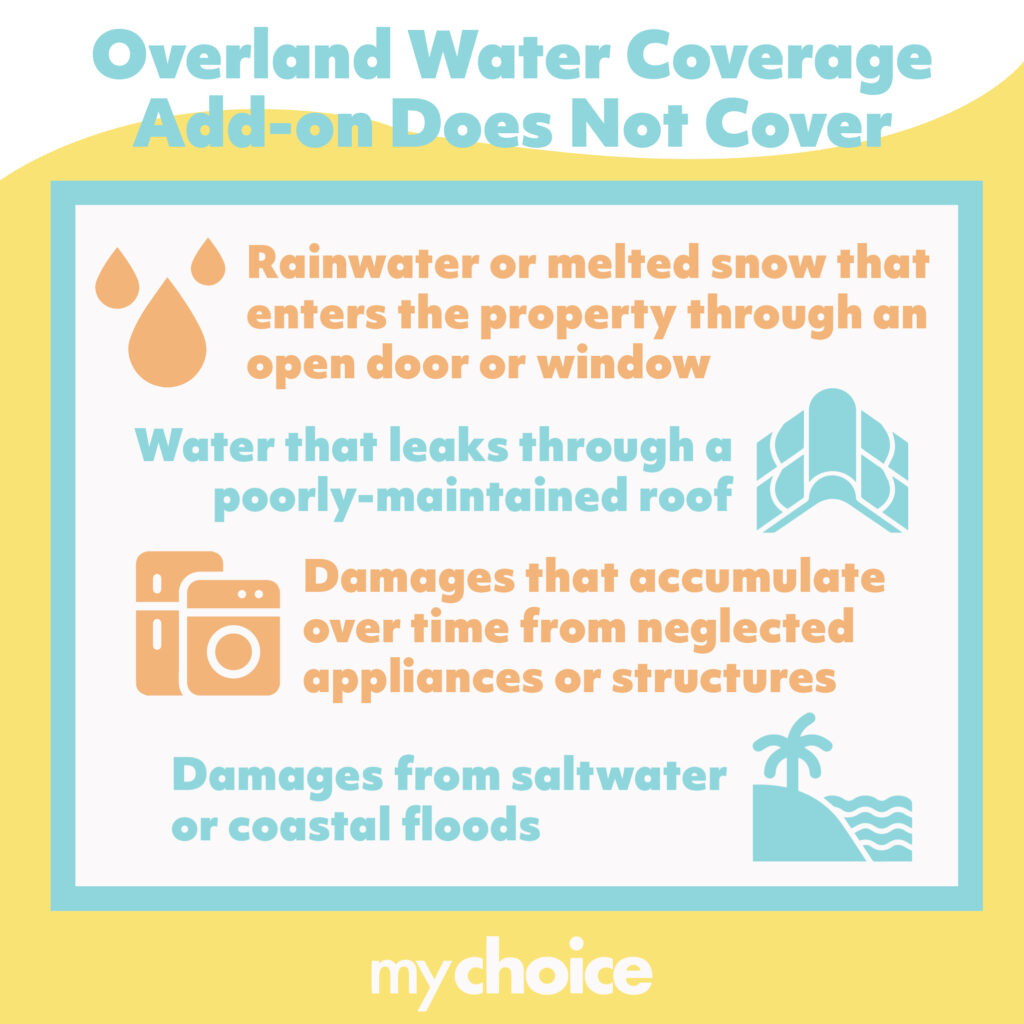 Should You Get Overland Water Coverage Even if You Live in a Condo or Apartment?
Even those living in mid- or high-rise dwellings such as condominiums or apartments can be affected by overland water flooding.
For example, an apartment building near a lake gets flooded by overflowing water after days of non-stop rain. The building's lobby, elevator, and lower-level amenities are rendered unusable, so all tenants are advised to relocate while the damages are fixed. Cars parked in basement parking garages underneath condominiums may also become damaged by the floodwater.
Overland water coverage can cover any additional living expenses over the following weeks, such as hotel accommodations and food costs as well as damages to vehicles.
Should Renters Get Overland Water Coverage?
Renters can benefit from overland water coverage the same way landlords and homeowners can. Traditional home insurance policies do not typically cover overland water damage, so it's good to purchase this add-on for your peace of mind.
This is especially important for those renting basement apartments, as well as those who rent houses with furnished basements or use their basement to store valuable items.
How Much Does Overland Water Coverage Cost?
The cost of overland water coverage will depend on whether your area is at high or low risk for flooding.
If you live near a body of water, at the bottom of a slope or hill, or in an area that sees a significant amount of rainfall and snow, you will likely face higher premiums. Typically, adding overland water coverage to your policy can set you back roughly $10 to $30.
Thankfully, there are ways to lower your premiums, including waterproofing your basement and purchasing sewer backup coverage.
If you want to find out how much home insurance typically costs in Ontario, read our blog to learn more. If you'd like to find out who the best home insurance providers are in your province, check out our list of the top home insurance companies here.
How to Prevent Water Damage in Your Home
Although water damage can happen suddenly and without warning, some types of water damage can be prevented or reduced significantly. Save yourself hundreds of dollars in water damage by following these tips:
Ensure that your sump pump is working: Your sump pump – a device that collects water at a low point in your home and moves it outside – ensures your basement does not get flooded during heavy rains. Have your sump pump checked and serviced at least once a year.
Regularly check your roof for signs of damage: Do a thorough roof inspection at least twice a year: once in the spring or early summer and another right before winter. After a storm, do another thorough sweep to make sure your roof wasn't damaged by flying debris or fallen tree limbs.
Clean out your gutters regularly: Gutters can get blocked with leaves and weeds, causing rainwater to flood around and into your home.
Install a backwater valve: Placed on your home's main sanitary sewer pipe, this device keeps sewage from flowing back from your mainline and into your basement. Some cities have rebate programs for this.
Install window wells on your basement windows: Window wells are semi-circular cutouts made of metal or plastic that help drain excess rainwater away from windows.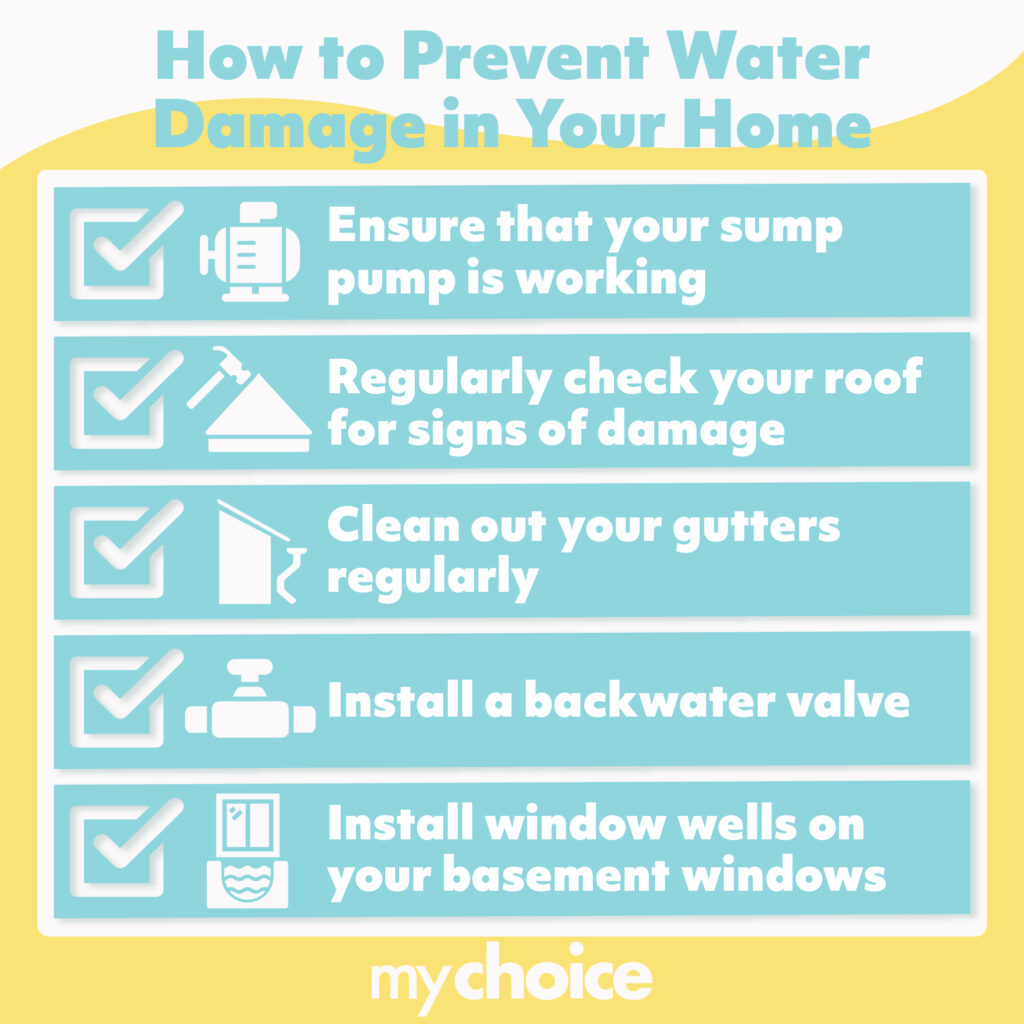 Is Overland Water Coverage Mandatory?
Homeowners are not legally required to purchase home insurance in Canada. Thus, overland water coverage is not mandatory.
However, take note that most mortgage lenders will not offer a mortgage to borrowers without insurance.
Is Overland Water Coverage the Same as Flood Coverage?
Overland water coverage and flood coverage are not usually interchangeable in the insurance world. Check with your insurance provider to ensure your policy covers both types of flooding.
Overland water coverage refers to protection from damages incurred by overflow from a nearby body of freshwater, such as a river or lake. Flood coverage, on the other hand, refers to protection from damages caused by saltwater.
Can I Get Overland Water Coverage Without Sewer Backup Coverage?
You typically need to get both overland water and sewer backup coverage at the same time.
Most insurance providers allow policyholders to get sewer backup coverage alone. However, they won't cover damages caused by sewer backups coming from overland water.
Does Overland Water Coverage Have Deductibles?
Some providers have deductibles for overland water coverage. This varies from provider to provider.
What Isn't Covered by Overland Water Coverage?
Besides saltwater flooding, breaches of dams, levees, and other man-made structures are typically not covered by an overland water add-on.
How Can I Lower My Overland Water Premiums?
To lower your premiums, you can opt for a higher deductible, lower your personal property coverage, or opt out of personal property coverage for overland water. The latter means that your home will be covered for overland water damage, but any personal belongings inside won't.
The Bottom Line
Overland water coverage is an important add-on that all homeowners should consider, given the growing problem of flooding and extreme weather in Canada. This additional coverage can save you hundreds of dollars in damages should you find yourself in the unfortunate situation of overland flooding.
Ready to find the best insurance rates? Use MyChoice to compare home or condo insurance rates or check out our insurance calculator to get the best rates in your area.