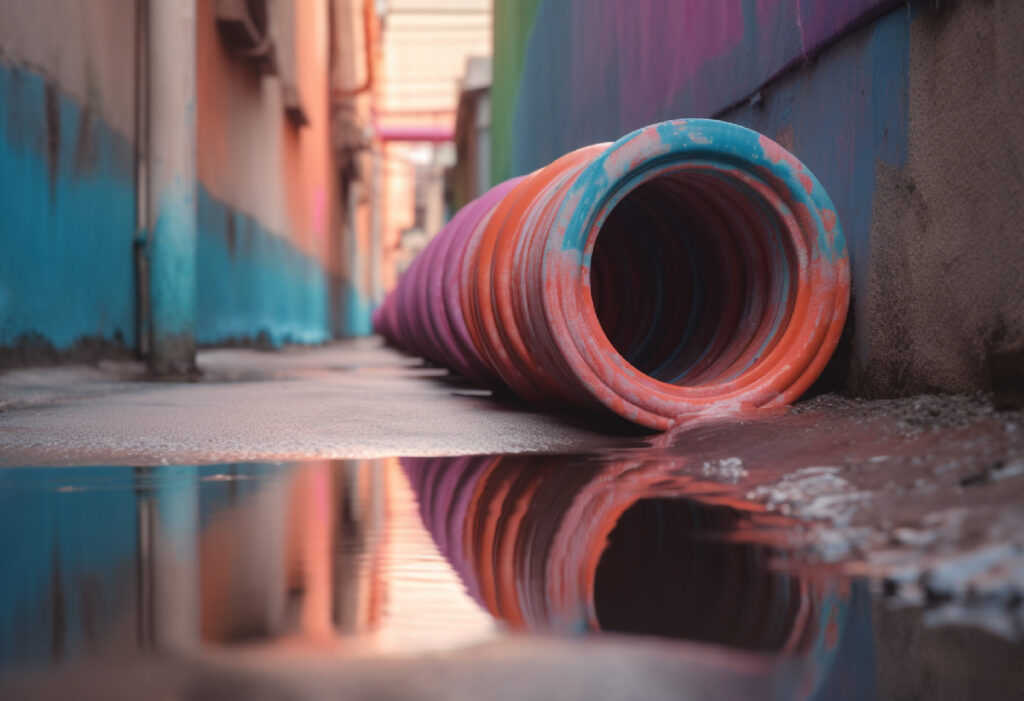 Sewer backup insurance protects you from damage caused by sewage water backup. It covers your damaged items, cleanup costs, and sewer repairs, so you don't have to spend a lot of money out of pocket to fix a sewer backup.
What does sewer backup insurance cover, and is it really a good idea to get it? Read on to learn more.
Understanding Sewer Backup Insurance
Sewer backup insurance is an add-on to your basic home insurance policy. It's designed to protect you from damage caused to your home and belongings by a sewage backup. Other common names for this coverage are water backup coverage and drain line backup coverage.
Some situations where sewer backup coverage may come in handy include:
Your sewer, septic tank, or storm drain discharges water
A sewer backup damages your home and belongings
Your sump pump or similar equipment overflows
Is Sewer Backup Coverage Part of Your Home Insurance Policy?
Sewer backup coverage typically isn't part of your home insurance policy. Most home insurance policies only cover water leaks. You need to pay extra to get sewer backup coverage. You might also need extra insurance coverage for flooding.
Fortunately, it's usually not as expensive as your main home insurance policy. Getting one is a good idea, especially if you live in an area prone to sewer backups.
What Sewer Backup Insurance Covers
Sewer backup insurance covers damages and repair costs caused by a sewer backup. It usually includes the following:
Damage to your house or building
Damage to furniture and belongings
Sewer line repair costs
Water cleanup costs
Coverage details may vary between providers, so double-check with your insurer to confirm what your insurance covers.
Does Sewer Backup Coverage Cover Floods?
Sewer backup coverage doesn't necessarily cover floods. Most insurers offer flood coverage as another add-on separate from sewer backup coverage.
Most flood coverage only protects you from overland flooding. However, a flood can come from land and sewer pipes. This means you might not get the maximum compensation and protection if you only have either sewer backup or flood coverage.
Some flood coverage policies also cover your living expenses if the damage is especially bad and you have to live elsewhere while waiting for repairs to finish.
Should I Get Sewer Backup Coverage?
You should get sewer backup coverage, especially if your house is especially prone to sewer backups. Here are several conditions that make your home more vulnerable to sewer backups:
You live in an old neighbourhood. Old neighbourhoods may have outdated sewer systems that make sewer backups more likely.
There are lots of trees and shrubs in your neighbourhood. Tree roots might cause sewer line blockages, resulting in backups.
Your area has a lot of rainfall. Too much rain can overload the sewer system and cause a sewage backup.
Your house is in a low-lying region, like a valley. Low areas are more prone to sewer backups because overflowing sewage water can easily go up and spill into your home.
How Much Sewer Backup Coverage Do I Need?
How much sewer backup coverage you need depends on your risk level. If your area is prone to sewer backups or you've experienced backups before, you may need to get more coverage. You may also need higher coverage if your basement area has lots of high-end furniture or expensive wall finishes because sewer backups often hit your basement first.
Sewer backup coverage in Ontario is even more important because the province sees heavy rainfall. This is especially true in Eastern Ontario, where it's humid and more likely to rain.
The cost of home insurance in Ontario isn't cheap, so you should get your money's worth and add the sewer backup coverage if needed. Compare rates and find the best home insurance company in Ontario and British Columbia only on MyChoice.
Common Causes of Sewer Backup
Sewer backups can happen due to lots of things. The most common causes of sewer backups include:
Sewer line clogs: Hundreds or even thousands of people use the same sewer line, so clogs may form due to hair, soap, and grease buildup. If a line is clogged, the sewage water has no option but to go back the way it came – this causes a sewer backup.
Uncontrolled tree growth: Tree roots may penetrate your sewer line and cause blockages and clogs. Trees often grow roots into the sewer line because they follow the flow of water and nutrients. This issue is especially common if you have clay piping, where tree roots can grow through the cracks and cause a worse blockage.
Ageing sewer lines: Older neighbourhoods might still use clay and cast-iron sewer pipes. While durable, they'll eventually break down. Cracked, broken, or collapsed pipes can cause clogs and blockages that lead to sewer backups.
Heavy rain: The public sewer system is designed to handle large amounts of water, but, sometimes, heavy rain can overload it. In more extreme cases of rain, your sewer system can get overwhelmed and cause water to back up into your home.
Neighbourhood or municipal sewer system problems: Sometimes, the fault is in the main sewer line. A major blockage in the main line can lead to sewer backups in many homes – including yours. This is out of your control, but you can potentially prevent further damage if you notify the municipality once you see water in your basement.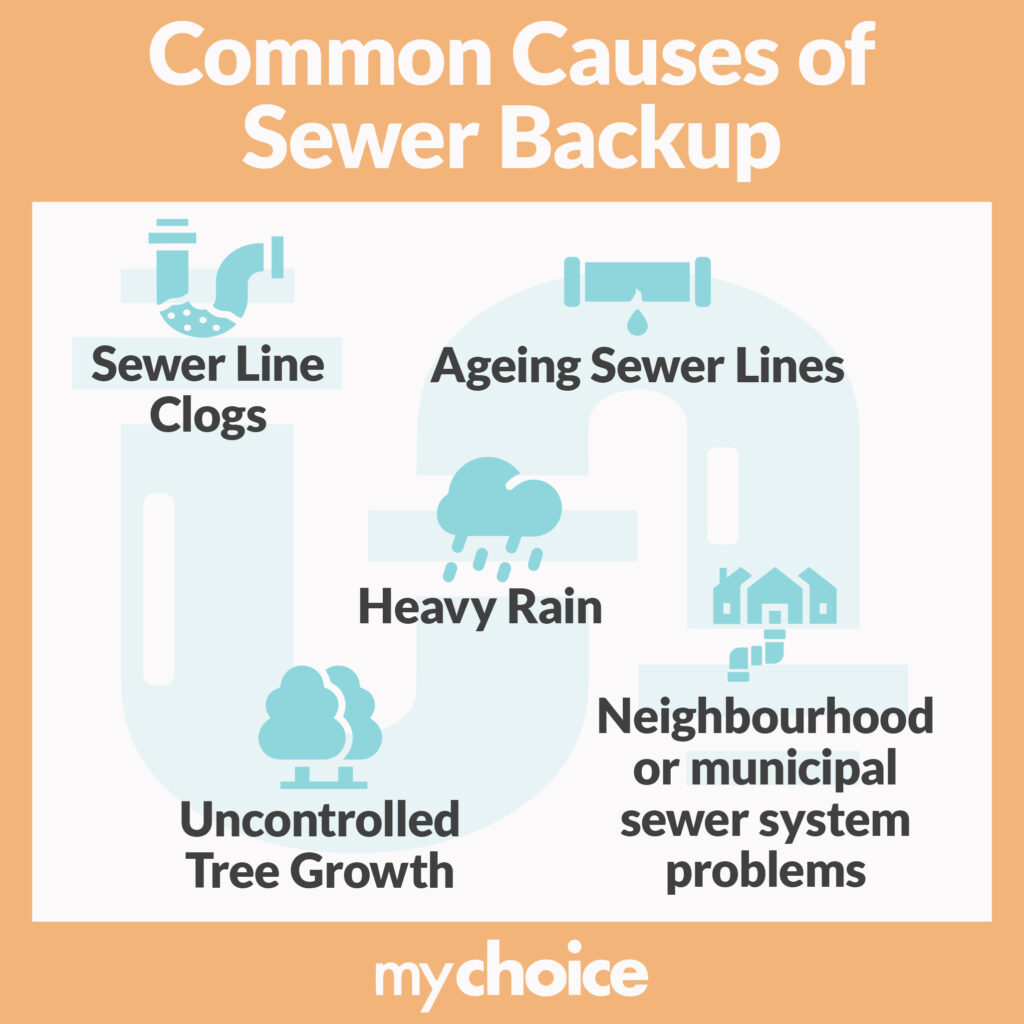 Why Sewer Backup Water Is Dangerous
Sewer backup water doesn't just stink – it's also a serious health risk. Sewage water is filled with bacteria and viruses that may infect you through direct contact or the air. It's also filled with nutrients mould needs to grow, which can lead to a mould infection in your home later on.
Plus, sewage water can severely damage your belongings if they get flooded. Leaving your household items exposed to sewer water for extended periods may damage them beyond repair.
Spotting Signs of Sewer Backup
Sewer backups are dangerous to your health and your home's well-being. So, it's important to spot its signs before the actual incident happens. Here are signs of sewer backup you should watch out for:
Your home smells of sewage.
You see dark, wet spots on the floor.
You find sunken areas on your lawn or the ground around your house.
You see more insects around your home. Sewage backup might attract insects because the higher moisture makes it more comfortable for them.
Your drains don't drain as fast as usual. You may also hear gurgling noises coming from them.
If you spot these signs, you should call a plumber to check your sewer lines. A plumber can potentially provide a solution to prevent sewer backups entirely.
Sewer Backup Prevention Measures
Prevention is the best cure. Here are some ways to lower the risk of sewer backups happening in your home:
Be careful when pouring things down the drain or flushing your toilets. You shouldn't pour grease or cooking oil into your drains. It's best not to flush hygiene products, diapers, and paper towels down the toilet, either.
Install a backwater valve on your sewer line. This valve lets sewage water go out but prevents it from entering.
Replace your sewer lines with plastic piping. Plastic piping is durable and more resistant to tree root damage.
Making A Sewer Backup Insurance Claim
Sometimes your best efforts just can't prevent a sewer backup from happening. What do you need to do next? Here's a step-by-step guide:
Contact your home insurance representative.
Prevent the water damage from getting worse. Depending on your situation, this could involve moving furniture, shutting off your water supply, and getting out of the house.
Get plumbers and cleaners to fix the problem. Keep the receipts since you may need them later.
Document the damage and record what items were damaged or destroyed. Keep your damaged items for the insurer's assessment unless it's dangerous to do so.
Work with your insurance company to get the coverage paid out.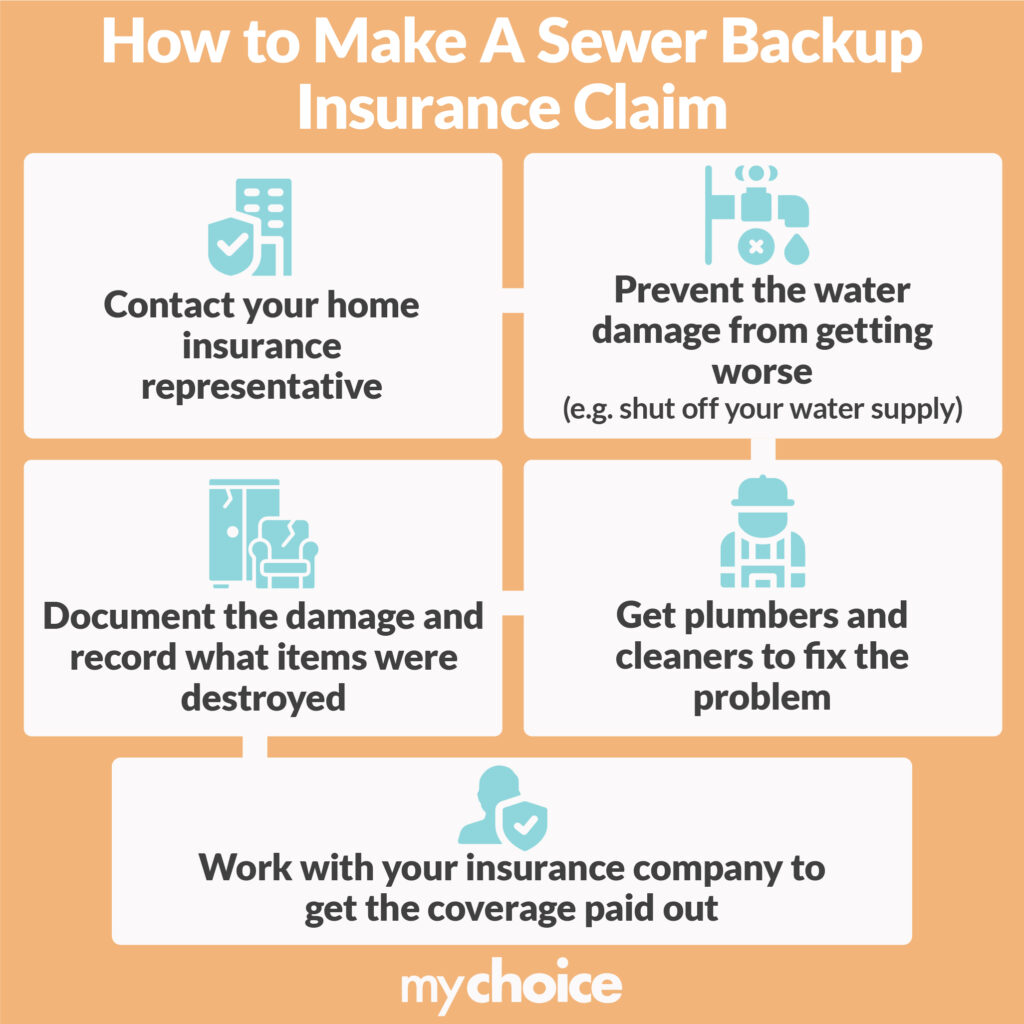 Finding The Best-Valued Sewer Backup Coverage
Almost all home insurance companies offer sewer backup coverage, but not all of them can satisfy your needs. The challenge is finding the best home insurance company that provides great protection at an affordable price.
Compare home insurance rates in Canada with MyChoice to find the best-valued policy for your house. You can also use our home insurance calculator to compare personalized quotes.