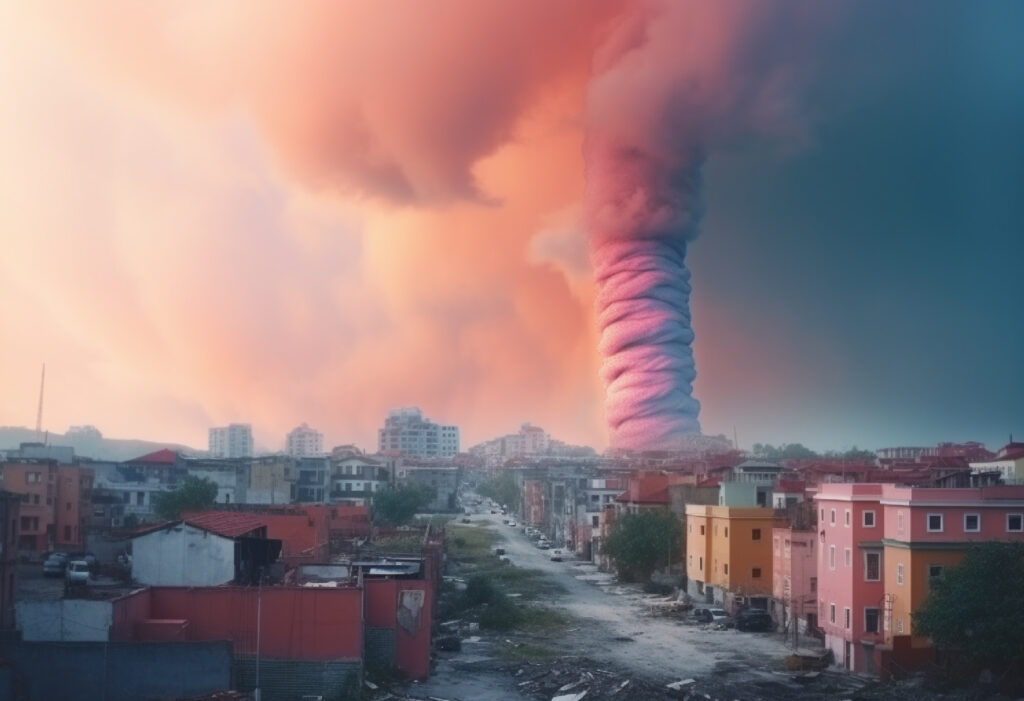 Home insurance covers tornado damage – and you might need it. While the United States still has the most tornadoes in the world, Canada trails behind it in second place.
Tornado-prone areas in Canada include the southern parts of Alberta, Manitoba, Saskatchewan, and Ontario. Some tornadoes also strike Northern Ontario and Quebec. If you live in these tornado-prone areas, you might benefit from wind or tornado coverage.
Fortunately, your home insurance can protect you from tornado damage. Read on to learn more!
Does Home Insurance Protect From Tornado Damage?
Yes, home insurance does protect you from tornado damage. Most home insurance policies cover damage from natural disasters like tornadoes, hail, and other major weather events.
That said, it never hurts to double-check with your insurer and confirm that your policy has tornado protection.
What's Covered by Your Home Insurance Policy?
Your home insurance policy usually covers your house, its contents, plus debris removal. Here's a list of the most common things covered by home insurance:
The building itself
The contents of your home
Detached structures like a shed and fences
Debris removal
Your insurer may also cover or reimburse living expenses if you can't stay in the house during or after the tornado. You can also get optional pool and spa coverage if needed.
Every insurer's range of coverage varies, so double-check with your insurance agent or representative to confirm what's in your policy and what's not. You might also need to pay a deductible before getting the promised amount of coverage.
What Happens if You Have to Evacuate
Your home insurance policy still works even if you need to evacuate. Typically, you'll be eligible for additional living expenses reimbursement for the next 14 days.
If your home needs repairs and you need to relocate longer, your insurer might extend your reimbursement period. Check with the insurance company to confirm the reimbursement limit.
Does Home Insurance Pay Your Living Expenses?
Home insurance pays for some living expenses but not all of them. Mostly, insurers pay for extra expenses incurred because you have to live and eat outside of your home during your evacuation.
For instance, let's say your regular living expenses are $100/day. After a tornado hits, your living expenses reach $250/day because you're staying at a hotel and eating at restaurants. This means you'll be eligible for a $150/day extra living expense reimbursement.
Do I Get Living Expenses as an Apartment Tenant?
You can get living expense reimbursement as an apartment tenant if your building is uninhabitable or inaccessible due to tornado damage. It works similarly to how homeowners get their additional expense reimbursement.
Can Home Insurance Cover My Spoiled Food?
Yes, home insurance can cover spoiled food due to power outages. But, as usual, it's still a good idea to check with your insurance company to confirm whether they cover spoiled food.
Does Home Insurance Protect My Car From Tornadoes?
No, your home insurance doesn't protect your car from tornadoes. You usually need an auto insurance policy with tornado damage or all risks coverage add-on. Both home and auto insurance covers you from storm and tornado damage.
Is Tornado Home Insurance in Canada Worth Buying?
Tornado home insurance in Canada is worth buying. Canada is known for its unpredictable weather, and it ranks second as the country with the most tornadoes.
How many tornadoes hit Canada each year? Most weather experts estimate Canada sees 60 to 200 tornadoes of varying sizes and severity each year.
The danger becomes even more pronounced if you live in an urban area around one of the country's tornado-prone areas. In July 2021, a tornado in Ontario affected 110 properties, causing about $75 million worth of damage.
Home insurance in Ontario might be costly, but it's worth getting in case another tornado like this hits. As you'll want the best protection for your house, this makes choosing the best home insurance company even more important.
Making a Home Insurance Claim After a Tornado
Once the tornado's passed, you can get your home insurance paid out by making a claim. Here's a general step-by-step on how to do so:
Call your home insurance company representative.
Clean the area around your house if possible. This helps prevent additional damage due to debris and water.
Document the damage caused by the tornado. Note which areas are hit, and take photos to show your insurer later.
Keep damaged items for the insurer's assessment, as long as it's safe to do so.
Keep receipts and invoices for any cost you incurred during the cleanup process. You should also keep receipts of all living expenses incurred while away from home.
Work with your insurance company to get the coverage paid out.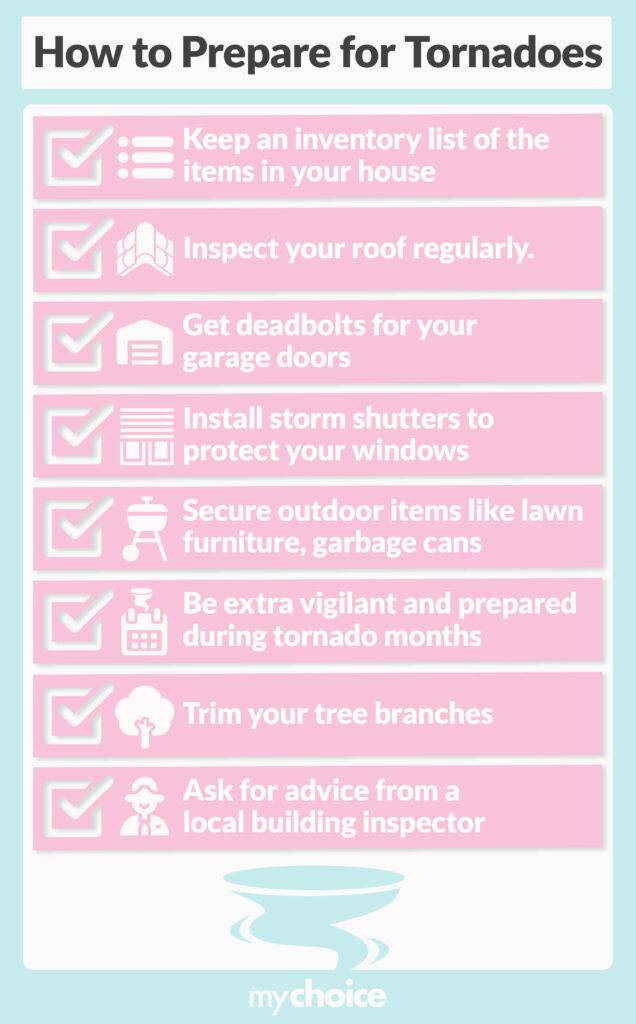 Preparing for Tornadoes
You can't fully protect yourself from tornado damage if it passes through your area. But you can prepare for tornadoes and reduce the damage it causes when it hits.
Here are some tips to prepare your house for tornadoes:
Keep an inventory list of the items in your house. This helps you note missing or damaged items when you check your home after the tornado.
Inspect your roof regularly. Get wind-rated shingles and protect your vents. A well-maintained roof reduces the risk of shingles flying off and damaging your home or others around you.
Get deadbolts for your garage doors to prevent the wind from opening them forcibly.
Install storm shutters to protect your windows and glass doors from flying debris.
Secure outdoor items like lawn furniture, garbage cans, and barbecue units. Unsecured outdoor items can turn into dangerous flying debris in a tornado.
Trim your tree branches. A strong tree might not get uprooted, but branches can snap off and become flying debris.
Be extra vigilant and prepared during tornado months. Tornadoes in Canada can happen year-round, but they most commonly happen from April to September.
Ask for advice from a local building inspector. They know exactly what protective measures you can implement to reduce tornado damage, especially if your area is tornado-prone.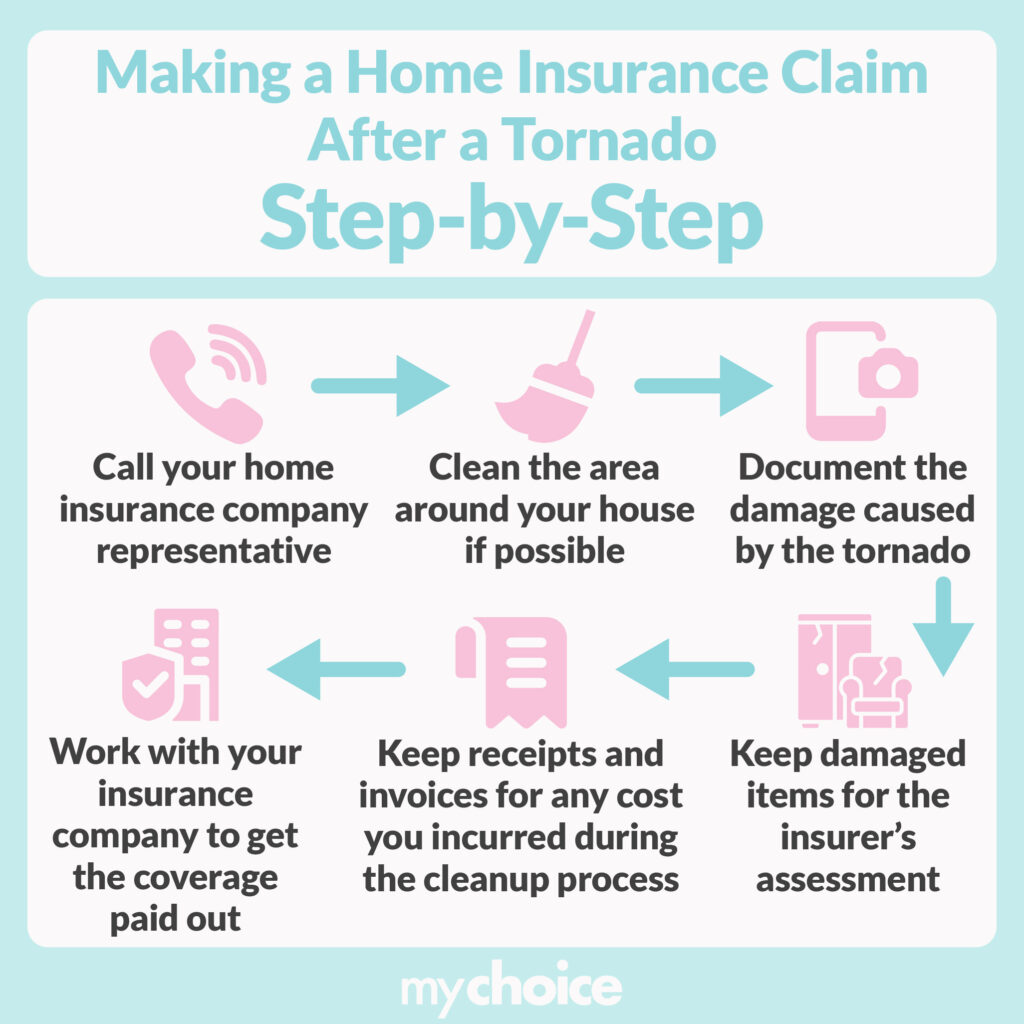 Saving Money on Tornado Damage Protection
Getting tornado damage protection is important, but so is getting a policy that fits your needs and budget. Many insurers offer home insurance, and choosing one can be hard.
Fortunately, you don't have to do it alone – you can team up with a broker. Tell them what you need from your policy and ask the broker questions about which insurer you should choose.
You can also use MyChoice to compare home insurance rates in Canada and find the policy that suits your needs and budget.