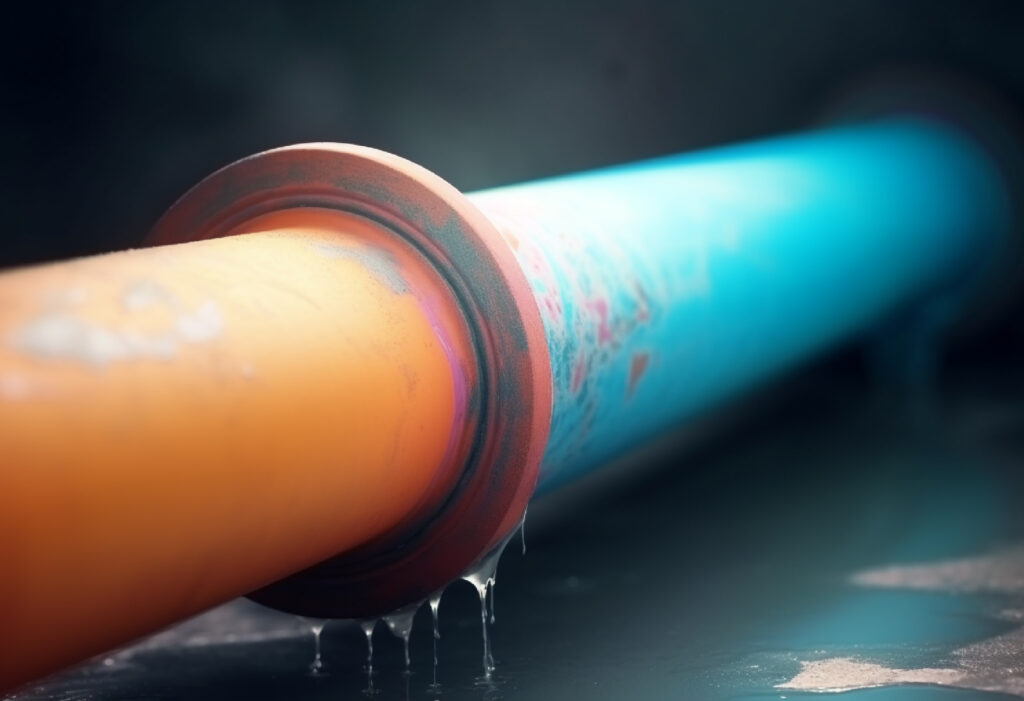 Home insurance does cover water leaks. But it won't cover all kinds of water damage. Looking for a guide to what kinds of water damage your home insurance policy covers? We've got you covered.
Read on to learn more about how home insurance protects you from water leaks and other water-related damage.
Does Home Insurance Protect You From Water Leaks?
Yes, home insurance protects you from water leaks. It also protects you from certain kinds of water damage.
This is very helpful because water damage to your home can have many consequences. Extensive water damage might mean you need to repair your floors, walls, and electrical or heating systems.
Unfortunately, your basic home insurance policy doesn't cover all water damage. You may need to buy extra coverage to protect your home from certain kinds of water damage.
What Water Damage Does Home Insurance Cover?
Your home insurance policy usually covers general water damage. The insurance industry defines general water damage as any accident involving "clean" water that didn't come from the ground or sewers. Examples of "clean" water accidents include dishwasher overflows, pipe bursts, and other water-related accidents that may happen at home.
That's usually the extent of water damage coverage your home insurance policy provides. You must purchase extra coverage to protect your home from other water-related incidents.
Does Home Insurance Cover Flood Damage?
Your basic home insurance policy doesn't cover flood damage. You need extra insurance for water damage caused by floods.
Does Home Insurance Cover Seepage Damage?
Home insurance policies may or may not cover seepage damage.
Seepage is damage caused by an ongoing water infiltration instead of a sudden burst. The process is often long-term, and you might be unaware of a leak until the signs of damage show. Signs of seepage include mould growth and bulging ceilings.
Whether your policy covers seepage damage depends on your insurer. Some insurers may deny your coverage because they think you don't maintain your home well enough. Others might cover it if the seepage wasn't visible to the naked eye, like if it was hidden in your walls or ceilings.
We recommend contacting an insurance representative to check whether your policy covers seepage damage.
Does My Tenant Insurance Cover Water Damage?
Your tenant insurance policy usually covers water damage as long as it's accidental and not caused by negligence. Landlords typically have rental property insurance that protects the building's structure if something happens to it.
Water Damaged Not Covered by Home Insurance
Home insurance policies usually have very specific requirements when providing coverage. That's why there are many situations where home insurance won't cover your water damage.
Here are common situations where your basic home insurance policy won't cover water damage:
Your home isn't regularly maintained: Insurers require you to properly maintain your home. It's your responsibility to prevent water damage by identifying and fixing potential issues before they become a problem. If the insurer decides the water damage could be prevented, you may be denied coverage.
Your home is unoccupied: Most insurers won't cover water damage that happens while your home is unoccupied for an extended period. For water damage to be covered, your home can't be vacant for more than 48 hours.
The damage is caused by flooding or sewer backup: Damage from a sewer backup, flood, or overland water isn't covered by your basic home insurance policy. You need extra coverage to get protection from these hazards.
Why You Should Get Optional Water Damage Coverage
Depending on where you live, you may benefit from overland water and sewer backup coverage. In many cases, you need both add-ons to get the most out of your coverage. Some flooding incidents come from land and sewer pipes, so you might not get the maximum compensation if you only have one of the two add-ons.
Moreover, overland water and sewer backup coverage doesn't just compensate you for damages. Some policies give you extra money to pay for living expenses. You can use the money to live elsewhere while your home is undergoing repairs.
Home insurance prices in Ontario aren't cheap. Check our article about the best home insurance companies in Ontario to find the best-valued insurance policy for you.
How to Get Insurance to Pay for Water Damage
You can get your home insurance to pay for water damage by making a claim. The general process is as follows:
Contact your home insurance company.
Prevent the damage from getting worse. This might involve plugging leaks, shutting off the water supply, and moving potentially affected furniture.
Notify your neighbourhood about the accident if they're potentially affected.
Get a plumber to make emergency repairs if needed. You may also need to hire cleaners afterward to prevent more damage.
Make a record of your damaged or destroyed items. Keep the items and don't throw them away in case your insurer needs them.
Work with your insurer to get the coverage paid out.
You may need to calculate the costs before submitting a claim. Most home insurance policies have a deductible, which you must pay out of pocket before your insurance protection kicks in.
Depending on the damage, you might save more money paying for repairs out of pocket than filing a claim. Double-check your deductible and determine whether filing a claim or paying for repairs yourself is cheaper.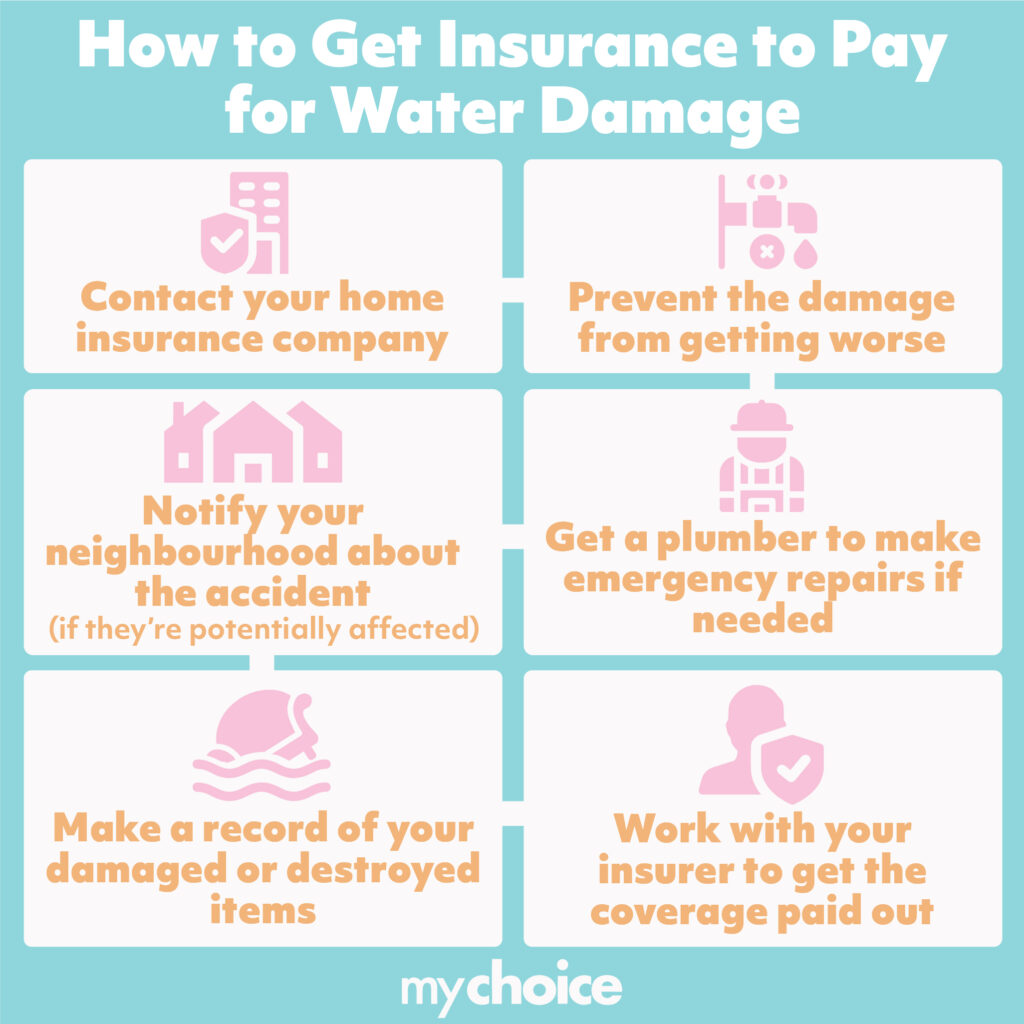 Protecting Your House From Water Damage
Water damage is a very common threat to Canadian homes. Here are some tips to protect your home from water damage:
Identify potential issues and fix them before they become bigger problems.
Keep your house properly heated in the winter to prevent burst pipes.
Have somebody check your house regularly if you're leaving for extended periods.
Maintain your appliances to ensure they're in perfect working order.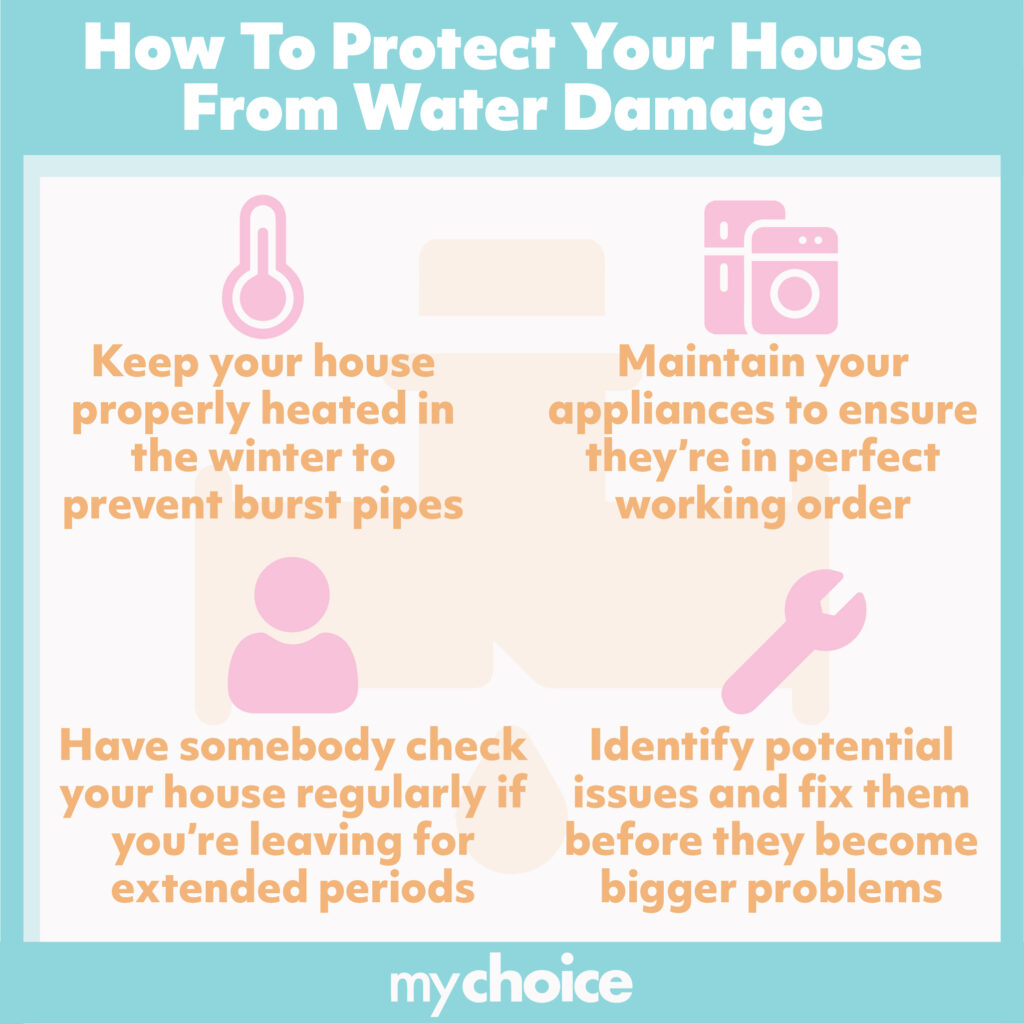 Do I Need Extra Water Damage Coverage in High-Rise Buildings?
It might be a good idea to get extra water damage coverage if you live in a high-rise building.
It might sound counterintuitive because you're so high up that you may not be affected by sewer backups or floods. But while you may not be personally affected, floods can damage your building's lower levels enough to make it hard to go up to your unit.
Sewer backup and overland coverage provide additional living expenses, so you can live elsewhere while your building is being repaired.
The Best Insurers for Water Damage Protection
Many home insurance companies provide water damage protection. The challenge is to find the one that fits your needs and budget.
Use MyChoice to compare home insurance rates in Canada and find the best-valued policy. You can also use our home insurance calculator to ensure you get the best rates.