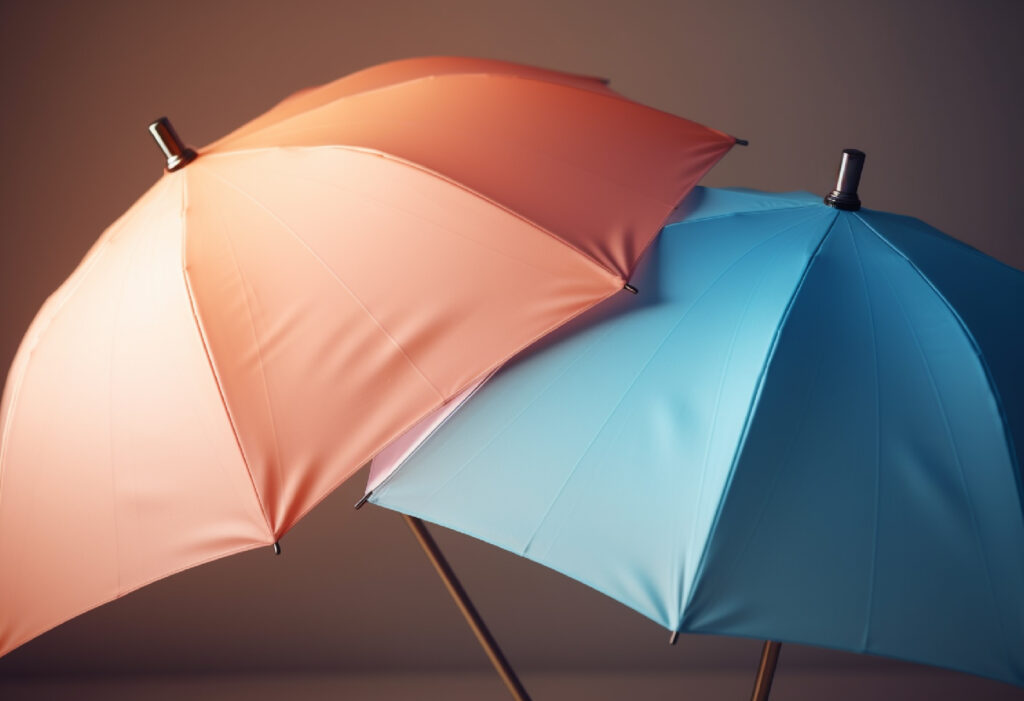 Either term or whole life insurance can be right for you, depending on your needs. But before you decide, it's best to learn the inner workings of both life insurance types to ensure you make the right choice.
What are the differences between term and whole life insurance, and which one should you choose? Read on to find out.
What Is Term Life Insurance?
Term life insurance is an insurance policy that covers you for a specific time period. Common coverage periods include 10, 20, and 30 years.
Your life insurance premium is set at the start of the policy and won't change during the term. But it may increase if you choose to renew the policy once it ends.
Pros of Term Life Insurance
The main benefit of term life insurance is its simplicity. Term policies are usually easier to understand – you're covered for a set number of years, then the policy expires. You need to renew the policy if you want protection beyond the term.
Term policy costs are also more affordable and predictable. Your premiums are guaranteed to stay the same for the entire term. A term policy is also very flexible because you can either renew it with another term policy or convert it into a whole-life one.
Cons of Term Life Insurance
The most prominent disadvantage of term life insurance is its temporary coverage. You lose the protection when the term ends and you don't renew. You might also get higher premiums when renewing the policy due to age and any health issues you may have developed since you took the policy.
Another disadvantage of term life insurance is that it doesn't build value. You get nothing but your policy's death coverage while the policy is active. Contrast this with permanent or whole life insurance that builds value as you pay premiums.
When to Take Term Life Insurance
Term life insurance is best if you have temporary needs to cover. Temporary needs can be anything from paying off your mortgage to funding your child's education.
Term policies are also great if you want to save money. They're usually cheaper than whole-life policies because of their temporary nature. But the lower costs now might translate into more expensive renewal later because you'll be older and potentially less healthy.
Can't decide which type of policy to get but still want insurance? Term policies give you flexibility in that regard. Your insurer may allow you to convert a term policy into a permanent policy when it expires.
What Is Whole Life Insurance?
Whole life insurance or permanent life insurance is a policy that covers you until you pass away. Your protection won't expire as long as you continue to pay premiums.
Lifelong coverage isn't the only feature of whole life insurance. Most permanent policies also have a cash value component. This means part of your premium payment is reinvested to generate this cash value. You can then use this cash value as a source of funds or loan collateral whenever you need money.
Due to the long protection period and cash value retention, permanent policies are usually more expensive than term policies.
There's also a subset of whole life insurance called universal life insurance. Learn how universal policies compare to whole-life policies.
Pros of Whole Life Insurance
The main benefit of a permanent policy is its whole-life coverage. You're guaranteed death benefits when you pass away as long as you keep paying premiums.
These death benefits aren't taxable, so your loved ones will receive them in full. However, there are some cases where your death benefit might be subject to tax. Check our guide on the tax consequences of life insurance in Canada for more details.
Another important benefit is its cash value. As you pay premiums, your policy's cash value will increase. Once you have enough built up, you can borrow against this cash value or withdraw them as an extra source of funds.
Curious about how life insurance can be an investment vehicle? Learn more about investing with life insurance.
You can still benefit even if you don't use the policy's cash value. If you have enough cash value in your policy, you can convert it to a paid-up policy. This means you don't need to pay any more premiums, as the insurer can take the dividends from your built-up cash value.
Cons of Whole Life Insurance
The most prominent disadvantage of whole life insurance is its high costs compared to term policies. Whole life policy premiums are higher because you pay for your insurance coverage and the cash value.
Another disadvantage is opportunity cost. Whole-life policies build up cash value through investments, but the returns may be modest compared to other investing methods. For instance, you might get more returns by taking a term life policy and investing the remaining money into stocks or real estate.
When to Take Whole Life Insurance
Permanent life insurance is a better option if you want whole life insurance coverage or to take advantage of its investment component. Permanent policies are also a good way to cover your funeral costs. You don't want to leave your loved ones with a large bill when they find out you passed away, after all.
Permanent life insurance premiums are more expensive, but it comes with better peace of mind because you have lifelong protection. That means you don't have to worry about re-qualifying at a higher price when your policy term expires.
Some investment vehicles have higher returns, but permanent life insurance cash value has a guaranteed return rate. It's the right choice if you prefer a hands-off approach to investing. The gains from your policy's cash value aren't just useful for you – your beneficiaries may also receive it once you pass away.
You also have a way out if you're having second thoughts about permanent life insurance. You can surrender the policy and lose your protection to gain a certain amount of cash based on how much value your policy's accumulated.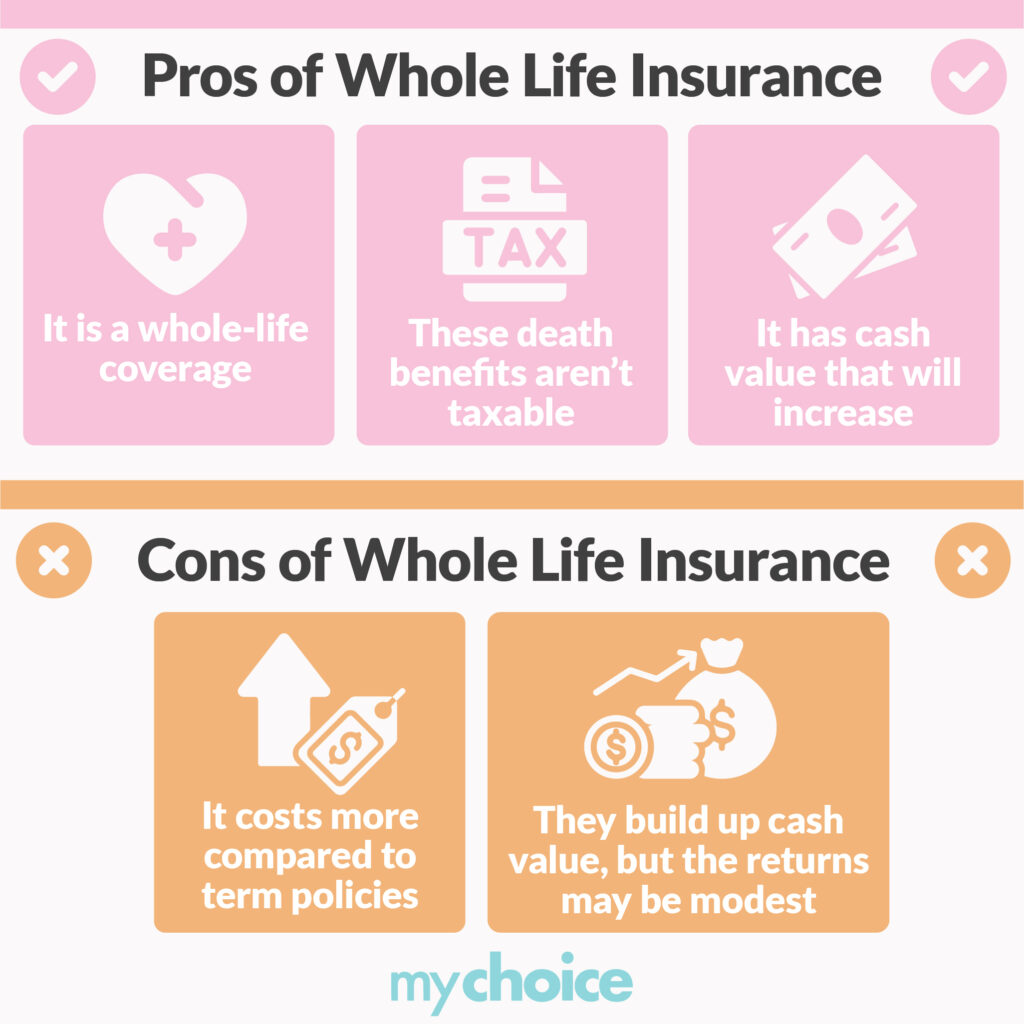 Term vs Whole Life Insurance: What's the Difference?
There are many differences between term and whole life insurance, as we've covered above. We'll summarize most of the prominent distinctions in this table:
| | | |
| --- | --- | --- |
| | Term life insurance | Whole life insurance |
| Coverage period | Temporary | Lifelong |
| Best for | Temporary needs like mortgage or child's education | Permanent needs like estate planning and retirement income |
| Guaranteed level premiums | Policy term | Entire life |
| Cost | Lower | Higher |
| Benefits | Death benefit only | Death benefit and cash value |
| Coverage after non-payment | Lapses after one month | Can continue as long as cash value pays for premiums |
Term vs Whole Life Insurance: Cost Comparisons
Cost is one of the primary concerns of insurance shoppers. As we've covered before, whole life insurance is usually more expensive than term life insurance. But by how much, exactly?
Here's a cost comparison between the two types of insurance for $250,000 coverage on a non-smoking male from different age groups. Note that these rates don't represent any one insurance company, and you should check with your insurer for detailed rate information.
| Age | 20-year term policy monthly cost | Whole life policy monthly cost |
| --- | --- | --- |
| 30 | $19 | $127 |
| 40 | $29 | $205 |
| 50 | $72 | $328 |
| 60 | $226 | $554 |
Even from a young age, the cost of whole life insurance is already significantly higher than term life insurance. Taking a permanent policy is a major financial commitment, so be sure you're financially ready to pay the premiums if you do.
Meanwhile, term policy premiums remain relatively low even as you age. That said, we recommend getting insurance at a young age to secure lower rates and save money.
Which Type of Insurance Is Right for Me?
There's no one type of life insurance that's right for everyone. The right insurance policy for you is the one that best suits your needs.
If you're looking to get temporary insurance, then a term life policy is best for you. If you don't mind shelling out more for lifelong protection and the investment component, whole life insurance is better for you.
Which Companies Offer Term and Whole Life Insurance in Canada?
Most Canadian companies offer term and whole life insurance. Ask your local insurance broker for more information about which company is the best for you. Or you can use MyChoice to find life insurance quotes and compare policies between insurers.
Term vs Whole Life Insurance: The Bottom Line
Term life insurance and whole life insurance have their unique benefits and drawbacks. The most important thing when looking for life insurance is to choose the policy type that suits your needs.