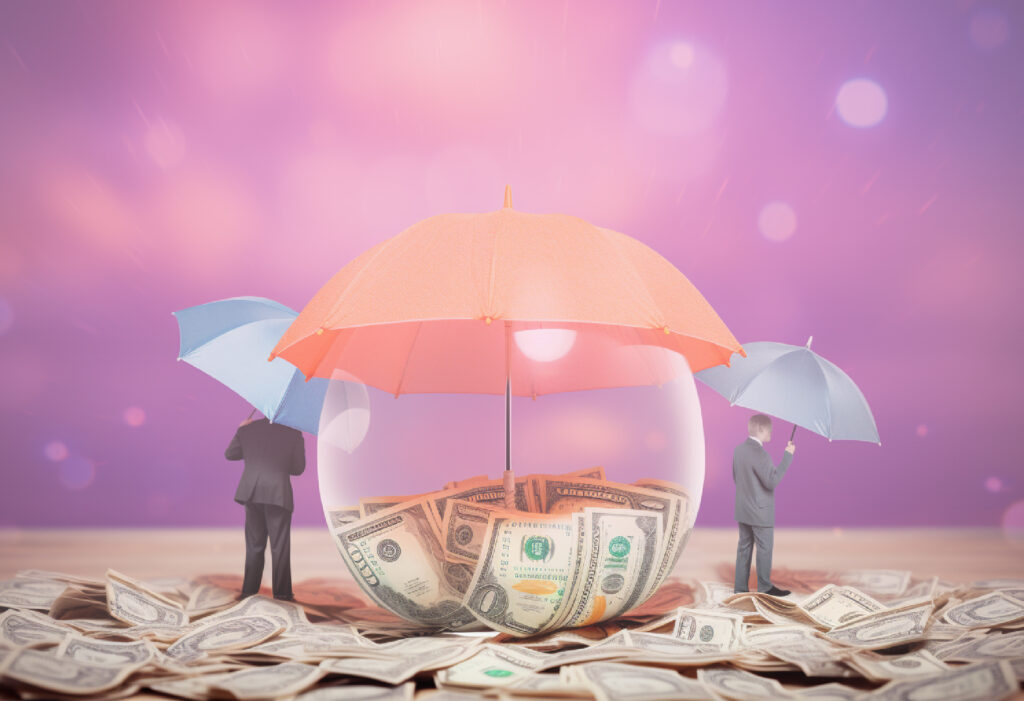 Whole life insurance can be a good investment if it meets your needs and aligns with your financial goals. The trick here is knowing who whole life insurance is good for and when it is a good investment.
We're here to help. Read on to learn more about whole life insurance, its investment component, and why you should (or shouldn't) invest in it.
Understanding Whole Life Insurance
As the name implies, whole life insurance is a policy that covers you for your entire life. As long as you keep paying premiums, you'll be covered until the day you die.
The "opposite" insurance product is term life insurance. A term life policy gives you time-limited coverage, so your protection will eventually end.
Whole life insurance is typically more expensive than term life insurance. But a whole-life policy's premiums are constant throughout your entire life. So, if you qualify at a young age and land cheaper premiums, you won't experience any rate hikes even when you're old and develop medical conditions.
How Is Whole Life Insurance an Investment?
Whole life insurance is an investment because the insurer reinvests part of your premiums. This reinvestment builds what's known as a cash value. Your insurer usually gives a guaranteed rate of cash value growth, meaning you can expect it to grow steadily.
What can you use the cash value for? You can either borrow money from it or withdraw the cash outright.
Outright withdrawal seems to be the easiest way to use cash value, but there's one thing you should remember. Withdrawing money from your cash value may reduce your death benefit, meaning your beneficiaries receive less money upon your passing.
There may also be tax consequences when borrowing or withdrawing your policy's cash value. Read our guide to the tax implications of insurance to learn more. You can also read our article on whether life insurance is an investment to see if it's right for you.
Pros and Cons of Whole Life Insurance as an Investment
Like all investment vehicles, investing in life insurance has its benefits and drawbacks. Let's dive deeper into the pros and cons of investing in whole life insurance:
Pros of Investing in Whole Life Insurance
Whole-life insurance coverage: The main benefit of investing in whole life insurance is the policy's coverage. Whenever you pass away, your loved ones will receive your death benefit.
Guaranteed returns: Whole-life policies are guaranteed to give you a return on investment at a predetermined rate. This means you can rest assured knowing your portfolio won't suffer even through an economic downturn.
Tax-free cash value growth: A whole-life insurance's cash value has tax-free growth. This means you can build cash value faster than other taxed financial instruments.
Estate tax repayment: Life insurance death benefits aren't subject to taxes. This means your family may not have to sell assets or scrounge up extra cash to pay your estate taxes.
Easy access to funds: Your policy's cash value is an excellent source of emergency funds because you can draw from it anytime.
Possibility for earlier benefits: Some insurers let you take a portion of your death benefits while you live if you develop certain health conditions. Accelerating your death benefit can potentially improve your quality of life before you pass away.
Cons of Investing in Whole Life Insurance
More expensive premiums: Whole life insurance is more expensive than term life insurance. One of the reasons is that your premiums are reinvested to build your cash value.
Potentially reduced death benefits: Accelerating your death benefit or withdrawing your policy's cash value might reduce your final death benefit. This means your loved ones may receive a smaller amount of money when you pass away.
Relatively lower returns: Life insurance investment returns are typically lower because insurers put your premiums in low-risk investment vehicles.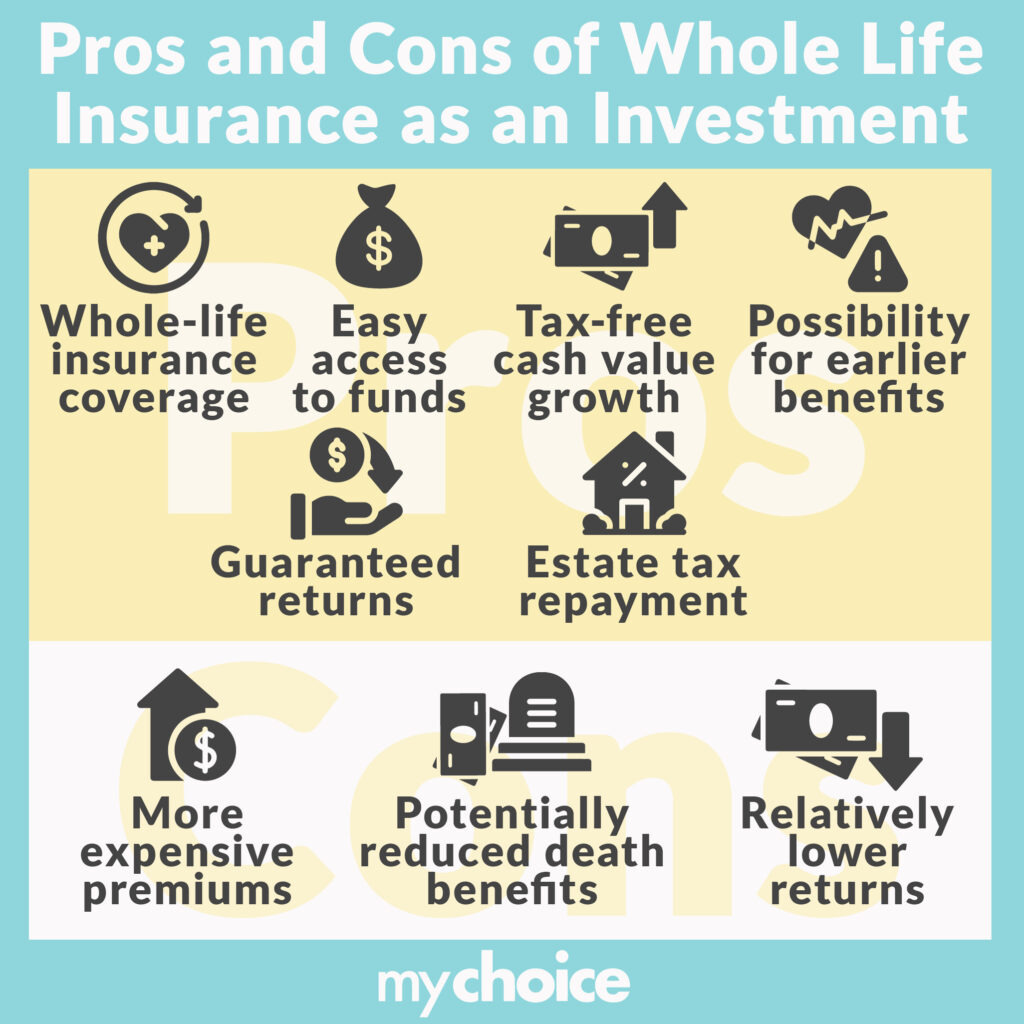 Is Whole Life Insurance Worth It?
Whole life insurance is worth it if it fulfills your protection and investment needs. Different people have different requirements for insurance, so we can't say that whole life insurance is worth it for everybody.
Is a whole life insurance policy worth it? Let's examine the scenarios when whole life insurance is worth it and when it isn't.
When Is Whole Life Insurance Worth It?
Whole life insurance is worth it if you want lifelong insurance protection plus guaranteed investment returns.
Whole life insurance owners are usually hands-off investors who don't want to sweat the small details. They just want to pay premiums and relax, knowing whatever happens, their cash value will build up at the guaranteed rate. They don't mind the relatively low rate of return because the risk is almost nonexistent.
Are you more concerned about your insurance investments and want to be a little more hands-on? Universal life insurance might be the perfect middle-ground for you. Universal insurance policyholders have some say in how the insurers reinvest their premiums, giving them more control over their investments. However, you're still only allowed to choose from an insurer-curated selection of financial instruments, so it's not complete freedom.
What are the differences between a whole-life policy and a universal life policy? Read our comparison between universal life insurance and whole life insurance for more details.
When Is Whole Life Insurance Not Worth It?
Whole life insurance isn't worth it if you don't want lifelong insurance coverage or want full control over your investments. In these cases, you'll benefit more by taking a term life policy and using the money you saved to invest in other financial instruments. This way, you still have insurance protection and complete freedom to invest wherever you want.
But taking a term policy doesn't completely lock you out of whole-life protection. Some insurers let you turn an expired term life policy into a whole-life one, meaning there's still room if you ever change your mind. You can also forgo insurance protection entirely once your term life policy is over.
Instead of taking another term policy, you can qualify for a small whole-life policy called final expense insurance. It usually offers smaller death benefits, enough to cover your funeral costs.
Which Type of Insurance Should I Choose?
You should choose whichever type of insurance fits your needs and investment goals. Whichever type of policy you pick, life insurance is important and can ensure your loved ones' financial stability in the event of your death.
Here's a quick overview of the three major types of life insurance and who they're best suited for:
Term life insurance: Term policies are best if you have specific needs to cover, like repaying a mortgage or funding your child's education. You can also take term policies if you'd rather invest your money in other financial instruments.
Whole life insurance: Whole life insurance customers usually want to blend whole-life protection and investments in one package. They're typically more hands-off with their investments and are willing to receive smaller returns with the lowest risk possible.
Universal life insurance: Universal life policyholders want some freedom in their investments but still need lifelong insurance protection. While universal policies don't give them full freedom, they still appreciate having some say in where their money is invested.
Is Whole Life Insurance Actually Bad?
Whole life insurance isn't actually bad, but that doesn't mean it's right for everyone. Keep in mind that whole life insurance is typically more expensive and takes a while to get a good return on investment.
Is whole life insurance right for you? That's a question you have to answer yourself. Review what you need out of insurance and choose the policy type that can fulfill those needs.
The Bottom Line
Whole life insurance is a good investment if it fulfills your needs and meets your goals. Most whole life insurance investors look for guaranteed returns, even if it means receiving smaller gains. In addition to that, whole life insurance is a great reserve for emergency funds that you can withdraw from or loan against at any time.