Auto insurance premiums in Ontario have risen by 14% in the past 6 years and will likely continue to climb. Because of this, the Ontario government has come up with an option for drivers to potentially lower those premiums.
In this article, we'll go over everything you need to know about the proposed changes, what they mean, and how they could affect you.
What Is the Planned Change to Ontario Auto Insurance?
As of January 2024, drivers in Ontario can soon choose not to have damages to their car covered by their insurance provider when they're not at fault.
Currently, all auto insurance companies in Canada are required to provide direct compensation property damage (DCPD) in their policies. With the Ontario auto insurance changes, insurance companies still need to offer DCPD, but drivers can opt out by signing the Ontario Policy Change Form (OPCF) 49.
The new Ontario auto insurance legislation was proposed as a way to offer Ontarians more choices and help them save money on their monthly premiums. However, it could end up costing drivers thousands of dollars in repairs if they get into an accident, even when it's not their fault.
When Will the Insurance Change Take Effect?
It will take effect on January 1, 2024. From that date onward, the state will require insurance providers to allow drivers to opt out of DCPD in exchange for cheaper premiums.
What Is DCPD?
DCPD is a component of no-fault insurance in Ontario. It ensures your insurance company covers damages to your car if you're in a no-fault accident. It's currently mandatory in all car insurance policies in Ontario.
DCPD speeds up the claims process because your insurance company pays for damages, not the other driver's company. This means less time waiting and less money out of pocket for repairs. Once your insurance provider covers the damages, they get reimbursed by the other driver's provider.
The Ontario car insurance changes mean that, if you sign OPCF 49, you won't be able to claim DCPD or collision coverage in an accident that's not your fault.
Collision coverage is different from DCPD – check out this guide on collision vs. comprehensive coverage to learn more.
What Is OPCF 49?
OPCF 49 is a document that states you won't claim DCPD, collision, or upset coverage if you're in an accident that's not your fault. Formally, it's called an "Agreement Not to Recover for Loss or Damage from an Automobile Collision."
OPCF 49 has very specific wording as to what it is you're opting out of. You won't be reimbursed for any of the following if you're involved in a no-fault accident:
Damage to your vehicle
The cash value of the vehicle
Not being able to use the vehicle
Vehicle replacement
Damage to anything inside the vehicle
You fill in the document with your name, the date, your insurance policy number, and car details (i.e., model year, make, and vehicle identification number). Once signed, you're officially opted out and are no longer covered by DCPD and collision coverage.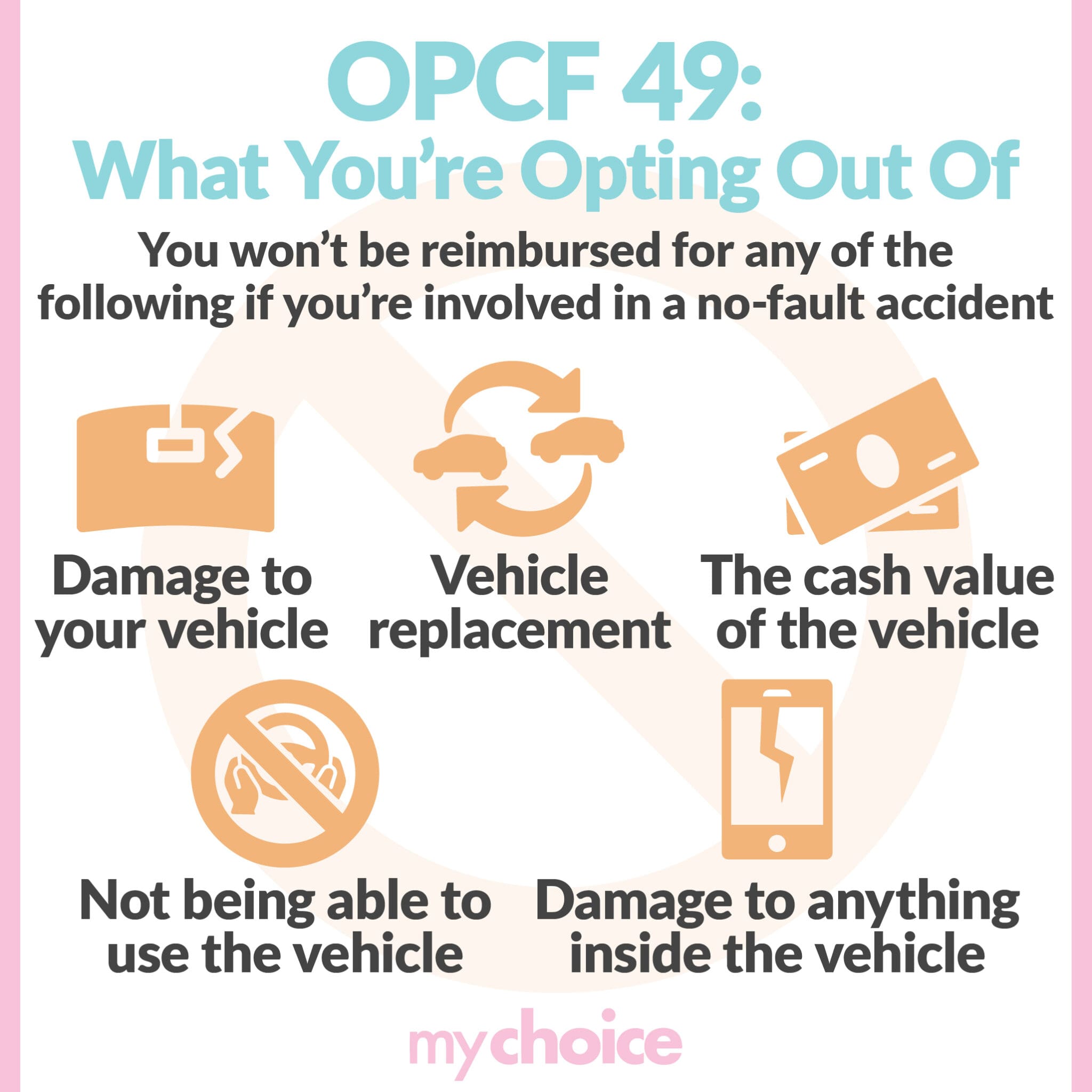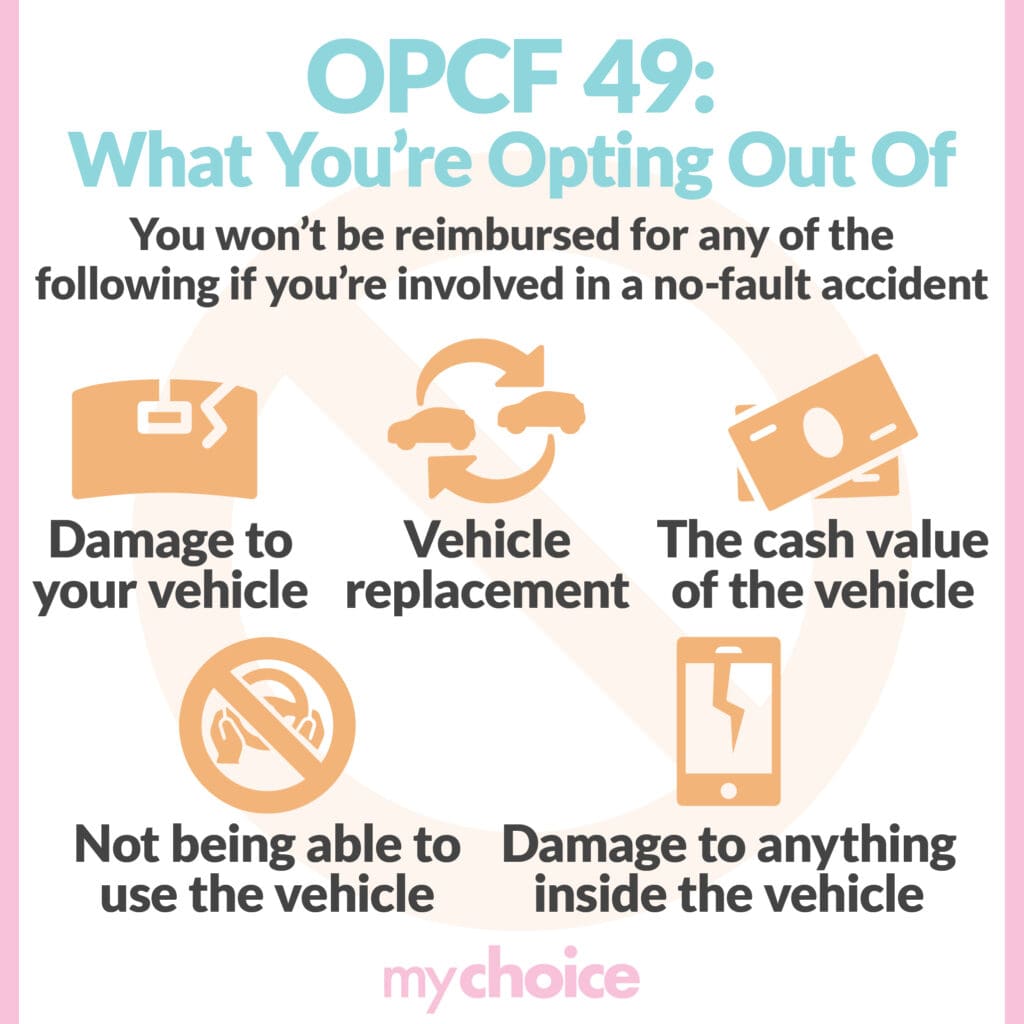 What Does OPCF 49 Mean for Drivers in Ontario?
OPCF 49 means that drivers in Ontario could save money on their car insurance premiums each month. However, it also means that you'll have to repair your car yourself if you're in an accident that's not your fault.
Currently, when an accident happens, you can claim for damages to your car or the cash value of the vehicle, if it's totalled. However, if you've signed OPCF 49 and opted out of DCPD, your insurance company won't pay for any damages.
On top of that, OPCF 49 states that you legally can't get the driver that hit you, the owner of the car, or their insurance provider to pay for any damages.
Financial Risks of OPCF 49
Though signing OPCF 49 could save you some money on your auto insurance premiums, you'll risk having to cover damages, a rental vehicle, and other costs yourself.
Your insurance provider won't pay for your car to be fixed or for a rental vehicle while your car is M.I.A. On top of that, the document also states that you can't go after the other driver or their insurance provider to cover the damages.
Here's what it could cost you if you get into an accident while opted-out of DCPD:
Car Damages
In Ontario, car repairs can quickly become expensive. Repairing just a small dent or bump on your car can cost up to $800. If someone rear-ends you and you need to fix your rear fender, lights, bumpers, and more, it could cost upwards of $5,000.
Also, if your car is totalled, you won't get reimbursed for it, and your insurance provider won't replace it.
Other Damages
OPCF 49 states that your insurance company won't cover damages to anything inside your car. If your phone, computer, or other items were damaged, you'll have to replace them yourself.
Rental Vehicles
Small damages like a bump will only take a few days to repair, but extensive damages could take a month or more. In these cases, you may have to rent a vehicle while waiting for yours to be fixed. Your insurer won't cover these costs if you've signed OPCF 49.
The average cost of a rental vehicle in Ontario is $126/day or $3,780/month.
When Signing OPCF 49 Is Worth It
One scenario where OPCF would be worth it is if your car isn't worth much and the cost of insuring it exceeds the value of your vehicle. In this case, your insurance provider likely wouldn't cover repairs if you get into an accident, so paying for that would be pointless.
If your car is worth less than the money you'd save by opting out of coverage, signing OPCF 49 could be a good decision that'll save you money.
Conclusion
The new auto insurance changes in Ontario could save you money in a province with skyrocketing auto insurance premiums. However, signing it means you're choosing to cover car repairs and other costs yourself. For this reason, many think the risk just isn't worth it.
If you're considering whether or not OPCF 49 is worth it for you, think about how much your car is worth and how much you'd have to pay for repairs. If your car and/or repairs are expensive, then it isn't worth it. You may save money every month, but just one accident can wipe your savings out.
Instead of opting out of valuable coverage, you can save money on your monthly premiums in other ways. Check out MyChoice to find the best car insurance provider for you and get great deals!