RBC TENANT INSURANCE
Make It Your Choice By Choosing Your Tenant Insurance With Us Today!
RBC A Giant In The Insurance Industry
RBC is a long established major multinational bank that provides a wide range of insurance and financial products. The company services approximately five million people with its insurance division specializing in offering property and casualty insurance.
RBC's tenant insurance policies are designed to give renters coverage that is useful and will allow them to recover from a significant loss of property. Their renters insurance offers property, liability, and living expenses coverage.
The company was originally founded to provide financing to the fishing and timber industries, and they began offering personal and small insurance in the 60's and 70's. RBC employs thirty-five hundred people just in their insurance department.
What is RBC's Tenant Insurance Like?
RBC is able to provide home and property insurance making them a good option for renters who are interested in protecting their belongings.
The property coverage will allow you to replace your belongings. The liability coverage will protect you from being responsible for damages to the apartment, other people's medical bills if they are injured in your apartment and from legal fees. Finally, the living expense coverage will allow you to avoid paying expenses if your apartment is unlivable.
RBC's basic tenant insurance will offer you protection in these three areas for the most common risks. These risks include such things as fire, smoke damage and theft. RBC does have a flexible option that allows you to adjust your policy so you can choose your deductible and dollar amount of coverage.
Tenant Insurance Trio Images iPhone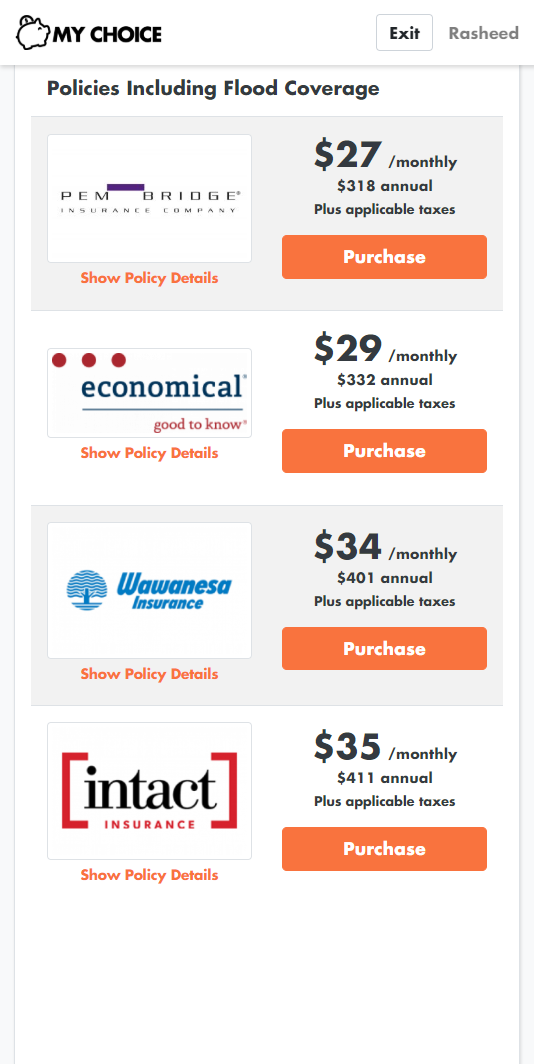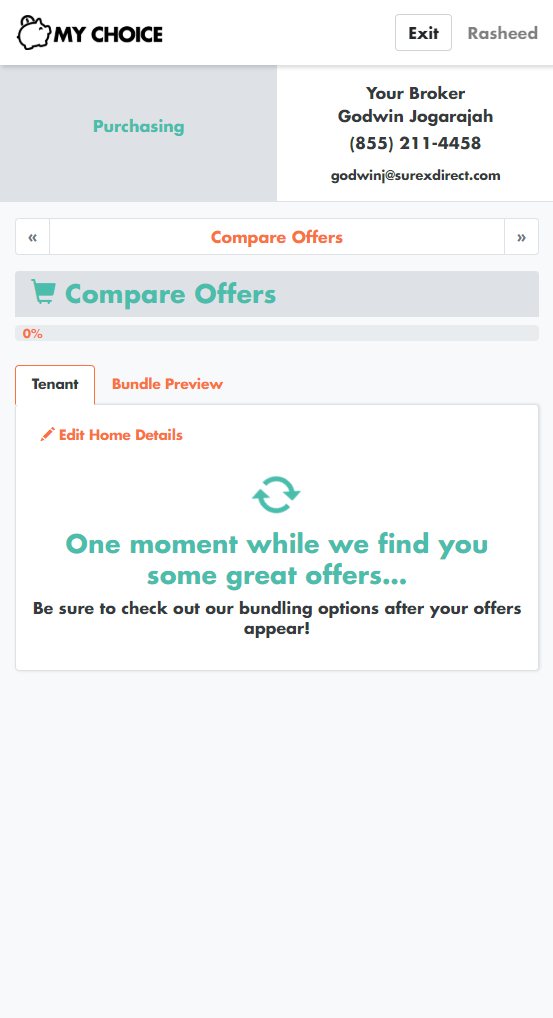 *Actual Quoting Data. Based On A Clean Driving Record.
What RBC's Comprehensive Insurance Covers For Renters
RBC offers comprehensive insurance policies with them offering a number of useful features. These features allow you to get the most value out of your tenant insurance.
All Peril And Replacement Value Insurance
RBC's comprehensive insurance policies come standard with all peril and replacement value coverage. An all peril insurance program will protect their customers from all risks that are not specifically excluded from the policy. An all peril insurance policy has the advantage of protecting customers from all forms of small risks that are not covered by a named peril policy. In addition, it is easy to determine coverage by comparing what insurance policies don't cover.
A replacement value insurance program will cover the full cost of replacing damaged items. This is opposed to their current value plan that will consider depreciation. A replacement value policy means that you can actually replace your belongings after they are destroyed.
Not Owned Property Coverage
Not owned property coverage will cover such things as a rental property as well as property that guests leave in your home. This will allow you to avoid being stuck paying for items if they are damaged, and it is a desirable form of coverage if you happen to be renting out a room.
Vehicle And Offsite Property Coverage
RBC's comprehensive policies will cover your vehicle if it is damaged on your property. This is a desirable form of coverage if you only have liability coverage on your car. Vehicle coverage will protect you from common risks such as vandalism, theft, and if someone crashes into your car in your building's parking lot.
Offsite property coverage will cover your belongings that are temporarily out of your home. This is a desirable form of coverage when you are traveling, and it will cover such things as if your laptop is stolen while you are out-and-about town.
Other Desirable Features
RBC comprehensive tenant insurance offers a number of additional benefits. These benefits include:
Voluntary Medical Payments
Voluntary Property Damage
Deductible Waiver
Additional Living Expense Coverage
Common Ways Renters Could Save With RBC
RBC offers a number of ways for their customers to get the most value out of their insurance. These saving methods generally involve simple steps that may only require a few minutes of effort. RBC even offers discounts for falling into certain categories where customers can save money by simply informing RBC.
It may be a good idea to consider a policy with a higher deductible. This is because many people will want to avoid filing a claim for small damages with them being willing to take some loss following major damage. A higher deductible will allow you to have lower premiums while still offering you coverage. RBC offers a deductible waiver feature where the deductible will not apply if you file a major claim.
Other Insurance Products Offered By RBC
RBC offers a full line of personal and business insurance products with many of its customers having multiple policies. RBC's other insurance products include:
Business
Home
Health
Life
Travel
Retirement
Only Pay For What You Need To Get Cheaper Renters Insurance
Getting cheap tenant insurance involves not buying more insurance than you need. RBC allows you to adjust your policy so you can buy a policy that gives you the exact amount of property insurance coverage you need. You should go through your belongings in order to determine their total value. You can then find a policy that is right for you.
Why Tenants Should Know About Overland Flooding
Overland flooding is caused by flooding from areas that are usually dry. It typically involves heavy storms and snow melt. Overland flooding is almost never covered by a standard insurance policy. Customers will need to purchase specific optional insurance in order to be covered for overland flooding. RBC has responded to recent major storms by offering an overland flooding endorsement that customers can add to their insurance.
Will My Tenant Insurance Protect Me When I'm Traveling?
Your tenant insurance will protect your belongings when you are traveling. The coverage would protect you if you were taking a short trip around town, and it would cover you if your belongings were stolen out of your hotel room.
Save By Comparing RBC Tenant Insurance With My Choice
We make shopping for tenant insurance as simple as can be, it's easy to use My Choice to compare RBC against different quotes for your renters insurance.
After you enter some basic information like where you want insurance, what level of coverage and your previous claims history, we can then provide you with a list of tailored quotes that are most suited to you!